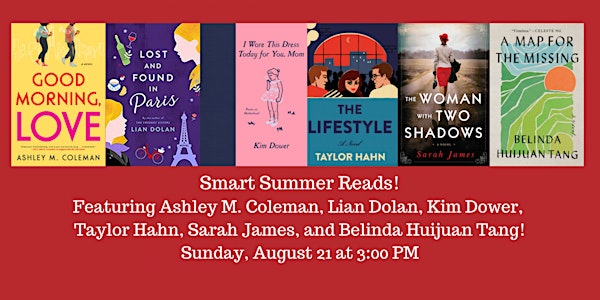 Smart Summer Reads on Sunday, August 21, 2022 at 3:00pm!
Smart Summer Reads (SSR) is how Ladies, Lunch and Literacy celebrates summer! Don't miss our last event this summer.
About this event
Our August Smart Summer Reads (SSR) event will take place on Sunday, August 21, 2022 at a private home in Manhattan Beach (the address will be provided with your reservation confirmation).
While finding you the perfect book for your summer vacation or poolside read, we promise you one of the most fun book events of the year!
This is how SSR works:
Six authors are invited to meet you and discuss their latest book.
Our meet and greet with our authors and other readers begins at 3:00pm. The bookstore also opens at 3:00pm.
At 3:15pm the fun begins: Each author will be positioned at one of six stations around the venue.
Readers will be assigned a starting point and then move from station to station in 10 minute intervals, giving each author approximately 7 minutes to talk about their book and answer questions.
After the "formal" program there is ample opportunity for readers to talk more with each author and get their books signed.
The program wraps up around 5pm.
For more information about our August 21 authors, click here.