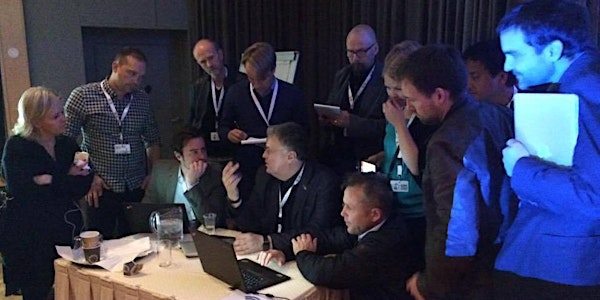 Smart Social Media Filtering & The Art of Finding People and Documents.
Meet Henk van Ess the world-renowned online sleuth & investigative researcher, during a live event from The Netherlands.
About this event
Henk van Ess is highly specialized in open-source intelligence (OSINT) and will share his latest techniques during a 2-day boot camp. It's not your normal OSINT workshop because Henk will teach you a lot about strategic thinking.
This event is sponsored by Dutch-based company SocialLinks
Duration: 2 days. 
Any good?
Here is an impression of the same event in New York City this year.
Why should you attend? 
Henk's course will change the way you conduct internet research, regardless of your job title. His unique mix of lateral and literal thinking will solve many of the issues plaguing researchers: tunnel vision and the tendency to focus exclusively on a single point of view, but also you will learn great new tricks.
Schedule of Events
Day 1
10.30 – 17.00 Henk van Ess Masterclass
17.00 - 18.00 Social Links workshop (optional)
Day 2
10.30 – 17.00 Henk van Ess Masterclass
WE WILL CHOOSE FROM THIS CONTENT:
Social Media Filtering 
Learn the art of turning your investigative questions into logical social media expressions
1. Fantastic Facebook Formulas
The cases:
We will search for a weapons dealer from South Africa with a very common name. An impossible feat made possible through OSINT/Facebook tooling.
We will search for people from New York who support the Turkish politician Gulen with the help of sophisticated Facebook Filtering
We will search for a corrupt Italian policeman, with only a first name. How will we find his full name?
The techniques:
We will learn techniques that will help resolve an anonymous FB account's identity. 
We will find Facebook friends and connections of a FB account with a closed-off friend's list. 
We will learn how to find hidden FB groups of FB accounts
We will learn the new FB language.
We will learn the art of finding the right posting amongst trillions of stories. This dives into search operators and search logic. 
We will learn how to find exact data points such as a photo of Mark Zuckerberg in Berlin.
2. Sophisticated Instagram and Telegram Filtering
The case:
A fugitive from the Netherlands is taunting Dutch police with provocative pictures and videos from Iran, playing a game of "catch me if you can" via social media. "I love my freedom. And the weather," he stated.
3. Clever LinkedIn Codes
We will learn how to find the victim of a murder case with one gigantic precise LinkedIn formula.
We will learn how to search for very small (non-default) places on LinkedIn.
We will learn how to find LinkedIn accounts by e-mail. 
4. Twitter Tricks
We will learn how to find eyewitnesses
We will learn how to find (partly) deleted accounts.
We will learn how to quickly analyze Twitter accounts. 
Digging for Docs (& People) 
We will discuss the counterintuitive method of finding off-beat documents by shifting the focus of the question of predicting the patterns. We will also discuss digging for documents & people under a tight timeline.
Quickly find the background of an unknown person with the help of sophisticated filtering. 
We will look at Mr. Hill, a pilot who caused a plane crash but survived. In just 20 minutes we will find his Royal Airforce ID, unknown company, forum postings, old deleted website, and an actual developing story - He was responsible for a previous accident. We will discuss why you have to search the same name 10 times in 10 different ways.
We will learn how to avoid tunnel vision.
We will learn how to find details that you didn't know existed in the first place.
We will learn and discuss the strategies used to turn a hunch into a hypothesis. This segment shows you why it is important to "follow the data". 
Cases:
We will also use OSINT techniques to find damaging information about the quality of cabin air. 
We will investigate the funding behind a dubious think tank.
We will investigate the shady practices of the sales agent Viagogo.
We will learn how to strategically research a company, i.e. Palantir.
What are others saying?
"I found the course somewhat fascinating and somewhat shocking with regards to what is possible to obtain from certain social networks. These are now essential skills and techniques not just for investigative purposes but for anyone searching for information on the internet."-Iain Dodsworth, creator of Tweetdeck, United Kingdom
"What a passionate and skilled trainer!"-Leo van Stijn, integrity consultant KPN, The Netherlands
"I was just blown away by 8 intense hours in the company of Henk van Ess. How he could keep the pace with such energy, humor, and knowingness for so long, beats me. I am still trying to comprehend all the stuff that I've learned and would sign up again in a minute!"-Michelle Tubæk Gram, journalist, Denmark
"I learned to aim with more precision""I've followed this fast pace one day course packed with tools, techniques and most import, strategies for using the open-source data to the max. I left with a pack full of notes, websites I'd never heard about and a good plan to avoid too much trial and error work and to aim with more precision."-Paul Harts, lawyer, Netherlands
"Extend this course to two days! (we listened, we did that in this Amsterdam edition)I learned new ways (and as well "old" ways I didn't know before) of doing research. It would even have been better, to extend the course to two days."-A. H. law enforcer, Switzerland
"Very good, technically and tactically"The workshop was very good. I liked the separate steps in different cases that helped me got to the goal. Henk introduced very good open-source problems & solutions, technically and tactically."-Jan K., Ministery of Internal Affairs, Germany
"Don't miss this"Henk literally created his own industry in the clever use of search and now social media to find just about anything or anyone. Henk's workshops are not yet commonly available in the U.S. Don't miss this opportunity if you're a journalist, author, or investigator! 
-Terese Foreman, VP Digital Strategy Bank of America
About the trainer
Dutch-born Henk van Ess (assessor for Poynter's International Fact-Checking Network) is obsessed with finding stories in big data. Media houses, like Buzzfeed, NBC News, ITV, Financial Times, BBC, Axel Springer, and De Persgroep love his literal and lateral thinking and hire Henk, on a regular basis to spill his secret, but he also helps law enforcement and NGO's. Henk, ex-Bellingcat, rarely appears in public workshops, so this is your chance to find out the best tricks for research.