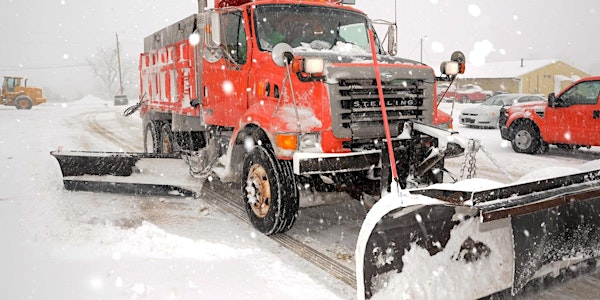 Smart Salting Level 1 Roads Certification Training
Learn practical winter maintenance while saving money and time and minimizing impacts on the environment!
When and where
Location
Blaine Public Works Facility 1801 101st Ave. NE Blaine, MN 55449
About this event
This course will help you learn how to integrate science with practical winter maintenance while minimizing impacts on the environment through presentations and class exercises. The practices taught will help you save money, time, and the environment. Attendees will be given a manual to keep.
Training Topics
Application rates of materials
How to calibrate equipment
Weather conditions
Storing materials
New maintenance methods
De-icing and anti-icing
Environmental effects
….and more
Who should participate?
State, city, and county road maintenance staff
Contractors or private maintenance companies
Staff or volunteers who manage snow and ice at a facility
Property managers
Distributors of anti-icing/de-icing products
Associations who hire contractors
Why is it important? This class will help:
Save you money
Keep our parking lots and sidewalks safe
Protect our water
Get you certified !
Get certified! An optional test is offered at the end of the workshop to earn a certification from the MPCA.
The salt applied to parking lots, sidewalks, and roads each year can have detrimental impacts to local waterways, plants, and wildlife. When snow and ice melts, salt runs into lakes and rivers, polluting water and harming aquatic life. The Minnesota Pollution Control Agency (MPCA) estimates that 365,000 tons of road salt are used annually in the Twin Cities, and a single teaspoon of this salt can permanently pollute five gallons of water. At the same time, salt application is an important part of keeping Minnesotans safe in the winter, and correct application of de-icers and anti-icers can make the difference between a treacherous path and a safe walkway.
**Coffee and Breakfast provided**
Questions? Contact Emily Johnson (emily.johnson@anokaswcd.org, 763-434-2030 x17)
Funding for this workshop is provided by MPCA through a grant from US EPA, Section 319 Nonpoint Source Management Fund. The course and materials were originally developed for the Mississippi Watershed Management Organization by Fortin Consulting, Inc. Content was created and reviewed through extensive collaboration with local experts.