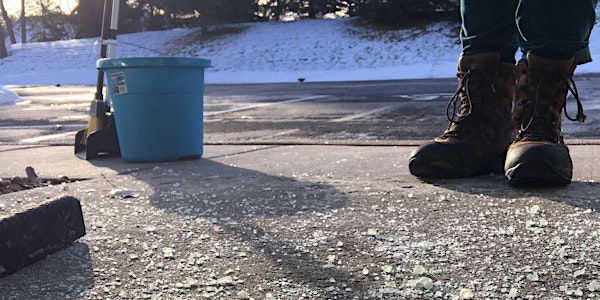 Smart Salting for Parking Lots and Sidewalks: School District Staff
Event Information
Location
Bloomington Public Works
1700 W 98th Street
Bloomington, MN 55431
Description
This 5-hour course will help you learn how to integrate science with practical winter maintenance while minimizing impacts on the environment through presentations and class exercises. The practices taught will help you save money, time, and the environment. This workshop is designed for maintenance or grounds staff working for any local school district.
Training Topics
Application rates of materials

How to calibrate equipment

Weather conditions

Storing materials

New maintenance methods

De-icing and anti-icing

Environmental effects

….and more
Why Is it important? This class will help:
Save you money

Keep our parking lots and sidewalks safe

Protect our water

Get you certified
Get certified!
An optional test is offered at the end of the workshop to earn a certification from the MPCA.
More background information: The salt applied to parking lots, sidewalks, and roads each year can have detrimental impacts to local waterways, plants, and wildlife. When snow and ice melts, salt runs into lakes and rivers, polluting water and harming aquatic life. The Minnesota Pollution Control Agency (MPCA) estimates that 365,000 tons of road salt are used annually in the Twin Cities, and a single teaspoon of this salt can permanently pollute five gallons of water. At the same time, salt application is an important part of keeping Minnesotans safe in the winter, and correct application of de-icers and anti-icers can make the difference between a treacherous path and a safe walkway.
Contact Maya at mswope@rpbcwd.org with questions.
This workshop is co-hosted by the Riley-Purgatory-Bluff Creek Watershed District and the Richfield-Bloomington Water Management Organization.
The course and materials were originally developed for the Mississippi Watershed Management Organization by Fortin Consulting, Inc. Content was created and reviewed through extensive collaboration with local experts.
Date and time
Location
Bloomington Public Works
1700 W 98th Street
Bloomington, MN 55431
Organizer of Smart Salting for Parking Lots and Sidewalks: School District Staff
 Founded in 1969, the Riley Purgatory Bluff Creek Watershed District (RPBCWD) is a local unit of government tasked with protecting, managing, and restoring the water resources within its boundaries.
When it rains, water that falls on the land follows a path, either natural or human created to a waterbod. This area of land is called a watershed. Anything that happens in a watershed affects the lake, creek, wetland or pond it flows to. Watershed districts are charged with protecting and improving the water resources within their boundaries. Districts partner with local communities to identify top priorities and plan, implement and manage efforts to protect and improve water resources. They also work to engage and empower their community members to take part in the work of protecting clean water.