Description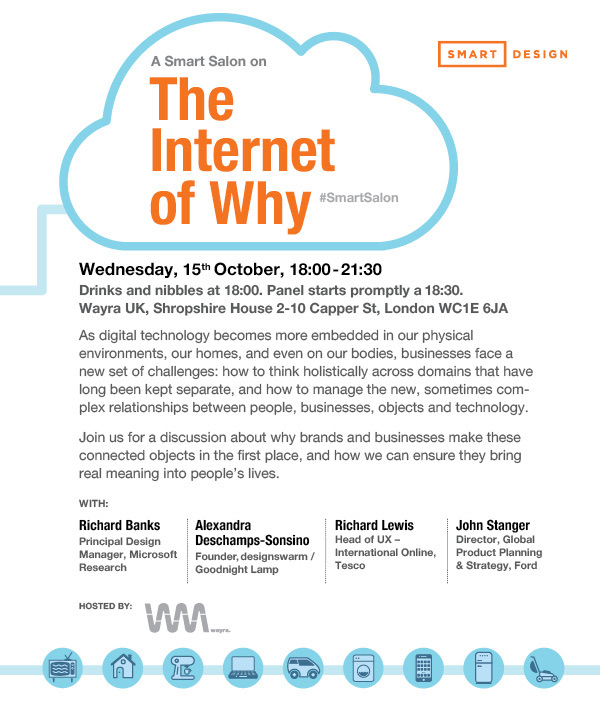 Thanks to widespread Internet adoption and more than 10 billion connected devices around the world, companies today are more excited than ever about the Internet of Things (IoT). But as the hype intensifies, so does the challenge of creating meaningful experiences that deliver lasting value to both consumers and businesses. The question is not if a device can be connected, but why the company is connecting a previously "dumb" product to the cloud. Does it make sense for both the consumer and the business? We call this dilemma the Internet of Why.
Join the conversation with a leading group of experts and practitioners to explore where true meaning really lies and how design can help develop innovative and lasting products for people in their daily lives. Panelists include:
Richard Lewis, Head of UX- International Online, Tesco
Richard Banks, Principal Design Manager, Microsoft Research
Alexandra Deschamps-Sonsino, Founder, designswarm/Goodnight Lamp
John Stanger, Director, Global Product Planning & Strategy, Ford
Gordon Hui, Director, Business Design and Strategy, Smart Design (moderator)

We'll also be showing a documentary film that Microsoft released earlier this year that explores the impact of connectivity on design, culture, creativity, and humanity. In Connecting: Makers, some of our thought leaders, including Hui, and others like Bill Buxton and Bruce Nussbaum, explore the potential implications of connected experiences for designers, technologists, and business people and how the Maker movement impacts how we create and innovate.

Stay afterward for a cocktail party to meet the panelists and celebrate Smart Design's new studio opening in London.
Details:
Wednesday, 15 October, 18:00 - 21:30
Drinks and nibbles at 18:00
Panel starts promptly at 18:30
Event location:
Wayra UK
Shropshire House
2-10 Capper St, London WC1E 6JA
Google map
About Smart Design
Smart Design is a design and innovation consultancy. We work across the physical and digital to design meaningful products, services, and experiences that have an enduring impact on organizations and people. Founded in 1980, Smart has studios in New York, San Francisco, and London, and clients all over the world. To learn more, join us on Twitter @SmartDesign and visit us at smartdesignworldwide.com.
About Smart Salons
Our studios frequently host panel discussions centered around compelling and timely topics in the areas of design, technology and business. Past Salon guests have included influencers such as Charles Adler (co-founder of Kickstarter), Jeffrey Hollander (founder of Seventh Generation), Patrick Whitney (IIT Institute of Design), Richard Saul Wurman (founder of TED) and many others.