Description
Did you miss online ticket pre-sales? Don't fret! You can still buy a ticket at the door -- bring cash (preferred), check, or credit card. See you there! You can ALSO still make a donation-only (no ticket) online using this page!

Join hundreds of smart growth supporters from around the region to drink local beer, sip wine, and enjoy eats, treats, and more, all while supporting the Coalition for Smarter Growth's work for more places that support transit, walking, and bicycling for everyone.
For our sixth annual Smart Growth Social, we are excited to welcome Katie Cristol as our smart growth speaker.
Katie is chair of the Arlington County Board and serves on numerous boards and committees, including as secretary treasurer of the Northern Virginia Transportation Commission and chair of its legislative committee. She is the vice-chair of the operations board of the Virginia Railway Express and co-chairs its capital and legislative committee. Katie represents Arlington on Northern Virginia Transportation Authority and chairs the human services policy committee of the Metropolitan Washington Council of Governments. A longtime advocate for reproductive health and representation for survivors of sexual assault, Katie, an education policy advisor, is Randolph Elementary School's liaison to the Arlington Public Schools advisory council on instruction.
---
Event reminders:
You will need your ID at the door. Individuals without ID will not be able to consume alcohol on-premises.

If you have friends who have not yet bought tickets, they can do so online until 10:00 a.m. tomorrow, Oct. 16. Tickets can also be purchased at the door with cash (preferred), check, or credit.

SGS is ticketless; don't print anything, just check in with your name or the name of your party!

Enter through the doors to the North Hall on 7th Street SE, not through the doors from the Main Hall.

We'd greatly appreciate it if you arrived no earlier than 7 p.m. We're so excited to see you, but help us stick to our schedule so we can throw you a great party!



---
Thank you to the 2018 Smart Growth Social sponsors: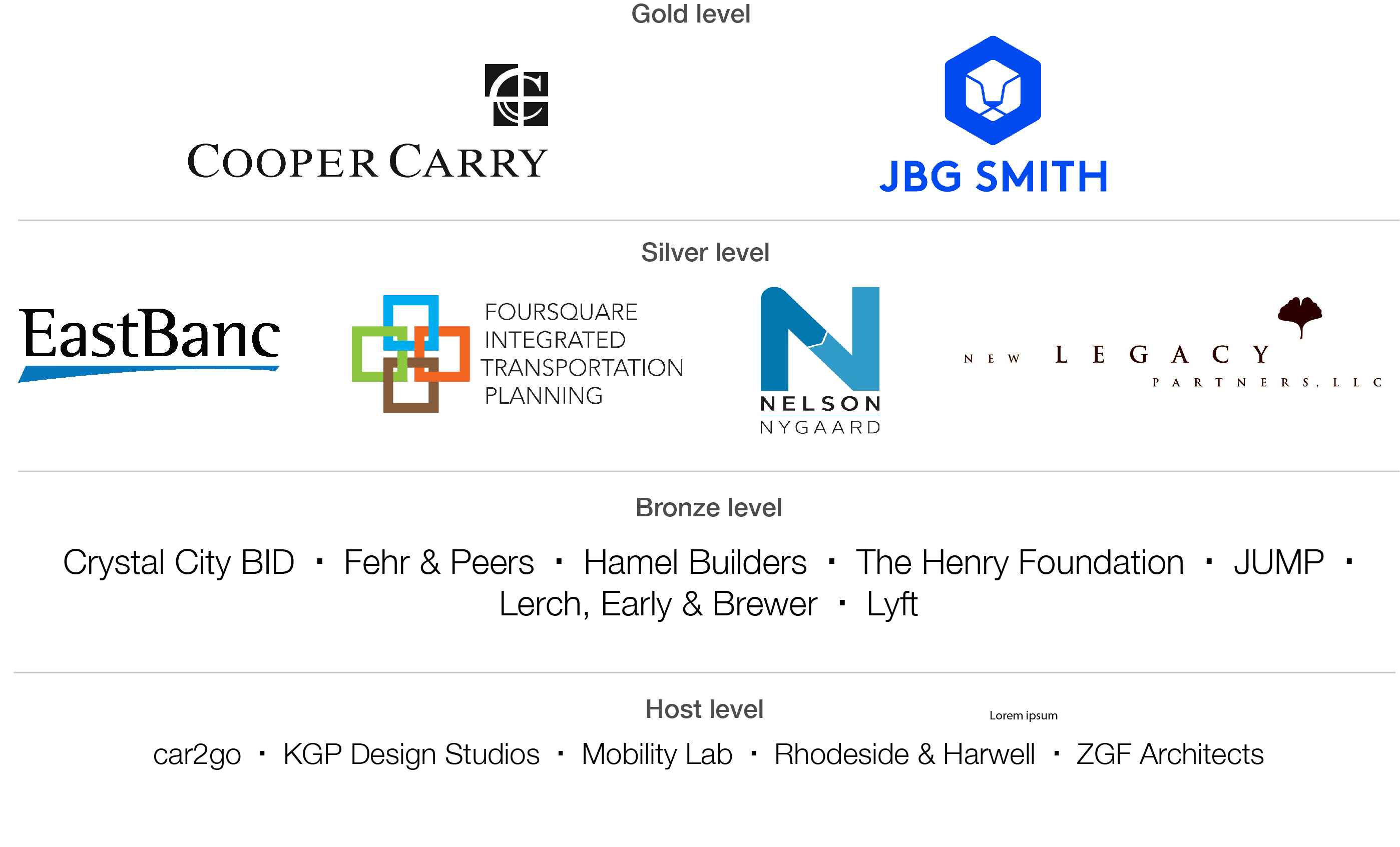 Thank you to the members of the 2018 Smart Growth Social Host Committee:
Tad Baldwin - T. David Bell, FAIA - Nick Burger - Jim Campbell - Payton Chung - Allison Davis and Joe Cafferata - Susan Kimmel - Stella Koch - Chris Miller - Merrily Pierce - Richard Price - Hope Richardson - The Sanders-Malloy Family - Don, Tina, & Jessie Slater - Harriet Tregoning and Geoffrey Anderson - John and Val Wheeler - Chris Zimmerman
---
29% of our operating budget comes from individuals like you. Without the financial support of passionate urbanists, environmentalists, affordable housing activists, and other supporters, we simply couldn't continue our work!
PLEASE NOTE: If you're looking for organizational sponsorship information, please contact us at aimee@smartergrowth.net to make sure your sponsorship is processed properly. Thank you!!