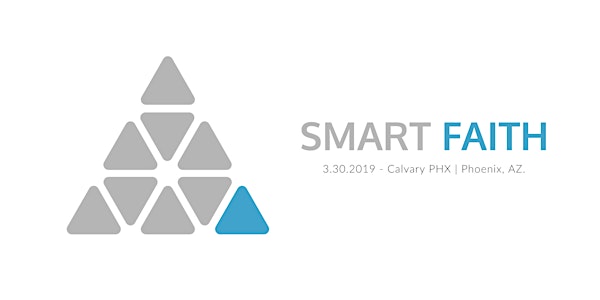 Smart Faith Conference: Faith & Morality
When and where
Location
Calvary PHX 12612 N. Black Canyon Hwy Phoenix, AZ 85029
Description
This year's Smart Faith Conference will focus on the intersection of Faith and Morality. How do we argue for and bring goodness into our culture? We will be offering a variety of topics that deal with this important question, both by our keynote speakers and our breakout speakers. Here is the schedule for this year's conference:
8:30 AM - Doors opens and walk-up registration begins

9:00-

9:55 - The Inadequacy of Naturalism to Explain Objective Moral Values by Jason Hyde

9:55-10:10 - Break

10:10-10:55 - Breakout Sessions (4 sessions running simultaneously)

Session 1: Do the Ends Justify the Means? by Joseph Valenzuela
Session 2: Explaining and Defending Marriage in a Non-Christian Culture by Richard Klaus
Session 3: Agent Causation, the Soul, and Materialism by David Moore and Mark Krause
Session 4: What is Science? What is Faith? by Peter Rasor

10:55-11:10 - Break

11:10-

12:00 - The Moral Imagination by Shawn White

12:00-

1:00 - Prayer and Lunch (Chick-fil-A)

1:00-

1:50 - Restoring True Tolerance by James Umber

1:50-2:05 - Break

2:05-

2:55 - Judging Others: Is It Always Wrong? by Marty Clapp

2:55-3:10 - Break

3:10-3:55 - Homosexuality by Robby Lashua

3:55-4:00 - Final words and conference wrap-up
As usual, lunch is included in the purchase of your ticket. We will be offering a free lunch from Chick-fil-A.