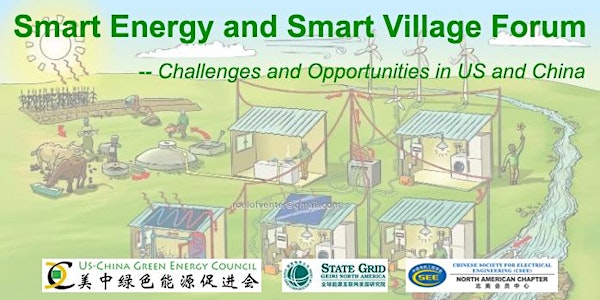 Smart Energy and Smart Village Forum
By US-China Green Energy Council (UCGEC) 美中绿色能源促进会
When and where
Date and time
Saturday, March 16, 2019 · 1:30 - 8pm PDT
Location
GEIRI North America 250 W. Tasman Drive San Jose, CA 95134
Refund Policy
Contact the organizer to request a refund.
Description
Smart Energy and Smart Village Forum
-- Challenges and Opportunities in US and China
The US-China Green Energy Council (UCGEC, http://www.ucgec.org) is pleased to announce that the 2019 Seminar Series #1 "Smart Energy and Smart Village Forum: Challenges and Opportunities in US and China" will be held at 2:00 pm - 6:00 pm on March16, 2019 in San Jose. Regis-tration link is coming soon.
** It is FREE for registered attendees but will be charged $20 after March 15th, and at the door. **
The seminar will start first panel session "Smart Energy" with speakers from Microsoft Cities and GEIRI North America, State Grid Corporation of China (SGCC). Then follow with second panel session "Smart Village and Global Experience in China", speakers from UCGEC and IEEE China Smart Village Committee, Partner of FoundersX Ventures and Student of Environmental Engineering Science, UC Berkeley.
During two panel discussions, distinguished speakers, including top executives and leading professionals from Smart Energy Technology & Solution Providers, and Smart Village Initiator, Entrepreneurs and Young Volunteers, will share their experience and insights at the seminar.
There will also be networking opportunities. Light refreshments will be provided. Please mark your calendar and RSVP today as seats are limited!
Date: Saturday, March 16, 2019
Time: 1:30 pm to 2:00 pm – Registration
   2:00 pm to 6:00 pm – Seminar
   6:00 pm to 8:00 pm – Reception and networking
Venue: GEIRI North America,
   250 W. Tasman Drive, San Jose, CA 95134.
Sponsor:
 GEIRI North America, State Grid Corporation of China
 CSEE North American Chapter
-----------------

Agenda -----------------
1:30 pm to 2:00 pm: Registration

2:00 pm - 2:30 pm: Welcome Remarks
Moderator: Dr. Fang Cao, VP, US-China Green Energy Council
Zhiwei Wang, President, GEIRI North America, State Grid Corporation of China (SGCC)
Xiaofeng Zhang, Executive VP, US-China Green Energy Council
Xuehua Zhu, Counselor, Consulate General of the People's Republic of China in San Francisco
2:30 pm to 3:10 pm: Panel Session 1 - Smart Energy
Moderator: Sunny Chen, GEIRI North America, SGCC
Scott Mauvais, Director, Microsoft Cities
Topic: AI for Sustainability

Dr. Jun Tan, Power System Engineer, GEIRI North America, SGCC
Topic: Key Technologies in Integrated Energy Services
3:10 – 3:30 pm Smart Energy Panel Discussions (20 min.)
Panelists: Scott Mauvais, Jun Tan
3:30 pm to 3:50 pm: Tea Break (20 min.)
3:50 pm to 5:10 pm Panel Session 2 - Smart Village and Global Experience in China
Moderator: Dr. Fang Cao, VP, US-China Green Energy Council
Xiaofeng Zhang, Executive VP, UCGEC; Chair of IEEE PES China Smart Village Committee; Chair of Silicon Valley Women (SVWA)
Topic: Smart Village – Energy, Education and Entrepreneurs to Empower Com-munities
Professor Tom Kosnik, Partner, FoundersX Ventures
Dr. Xin Ai, Founder and CEO of Trusiness (Sivicamp)
Kelly Jiang, Environmental Engineering Science, UC Berkeley
5:10 pm to 5:40 pm: Smart Village Panel Discussions:
Moderator: Xiaofeng Zhang, Executive VP, US-China Green Energy Council
Panelists: Tom Kosnik, Dr. Xin Ai, Kelly Jiang, Landa Wu (Executive VP, SVWA), William Huang (Monta Vista High School)
6:00 pm to 7:30 pm: Reception and networking
----------------- Speaker Bio -----------------

Please visit our website for more information:
http://www.ucgec.org/events/smart-energy-and-smart-village-forum