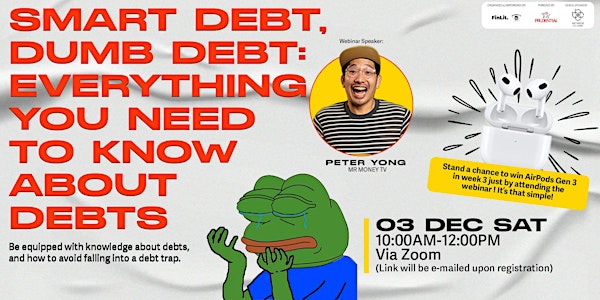 Smart Debt, Dumb Debt: Everything You Need to Know about Debts.
In this webinar, you will be learning how the RICH leverage on debt and using debt in building their financial success!
Refund Policy
Contact the organizer to request a refund.
About this event
Should you buy a house or car with debt?
Should you apply for a credit card?
Should you payoff your PTPTN or student loans?
Should you even have debt?
Let's set aside 2 hours on Saturday, 19th November for our upcoming LIVE webinar and we will find out the ANSWERS together!
WHAT WILL YOU GET?
In this 2 hours webinar, you will learn:
How to avoid falling into debt traps.
How to identify good debt and bad debt to use it at your advantage.
How to get out of debt at the fastest manner with the SECRET method.
How to leverage on debt in the right way to achieve your financial success.
And more!
WHAT WILL YOU BE LEARNING?
MODULE #1: Unveil the secret power of debt.
Learn the power of debt in multiplying wealth and how to minimize the risk.
MODULE #2: Identify Smart Debt vs Dumb Debt.
Learn to identify the difference between good debt and bad debt to avoid falling into a debt trap.
MODULE #3: Utilize The Snowball Method for debt!
Learn to leverage debt at your advantage and paying back debt in the smartest way.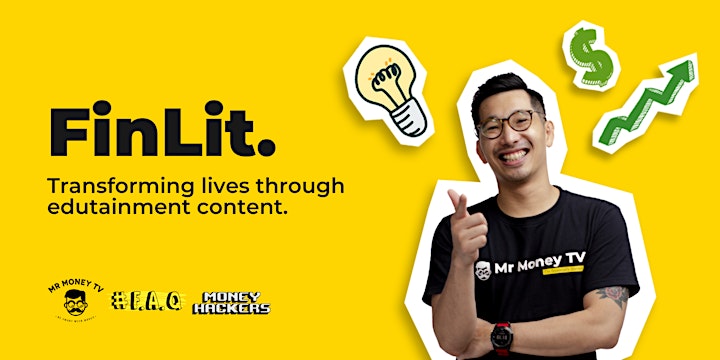 WHO ARE WE?
Mr Money TV is the First Financial Edutainment Channel in Malaysia. We specialise in simplifying complex, technical financial concepts into bite-sized, highly engaging content for Malaysians. Making everyday Malaysians a financial genius by enabling them to take charge of their financial destiny, making the right financial decision for themselves everyday. Thus, improving the quality of life through the power of financial literacy.
The instructor for this session will be Peter Yong, the host of Mr Money TV. He is also a Registered Financial Planner and a registered member of Malaysia Financial Planning Council, with more than 10 years experience as a financial planner/ advisor.
FAQ
Q: I do not have any debts or loans now, should I join?
You are strongly advisable to join the webinar and this will be ideal for you to kick start your financial journey!
Q: I am not good in number, will I be able to understand?
Yes! I promised there will be no difficult formula involve. With simple math you will be able to understand.
Q: I can't attend during the session, do you have a replay?
Yes! The session will be recorded and the replay will be sent via to your registered email after the session after the session. The replay will be available up to 3 days.
Q: Do I need to have basic in finance to join?
We believe financial literacy is the fundamental knowledge for everyone, just like learning our language. It's an important life skills for all of us. Hence, you do not require to have the background of finance to kickstart the learning journey in financial literacy.
Terms & Conditions
Please note that by signing up to this event, you are agreed and consent that we and our sponsor partners in this event, from time to time, will share and promote with you about the products and/or any marketing campaigns through email, SMS, and/or call, from the personal datas and contacts that will be shared from the sign-up form you filled in this event. You can, at any time you decide, opt out and stop receiving these offers and/or promotions, by unsubscribe to the email marketing from us and/or our partners, and we will record your request. With your consent by signed-up for this event, or with an opportunity for you to withdraw consent, we may share your information with third-parties for marketing purposes, as permitted by law.