Smart Contracts Lecture by Arifa Khan, Capital Coin, Uni of Tokyo 12Jan 7pm

Friday, January 12, 2018 from 7:00 PM to 9:30 PM (JST)
Event Details
Hello folks

2017 has been a smashing year for the blockchain industry. 2018 is going to be even bigger! Get ready for 2018!

One of the most promising Blockchain projects will speak to the audience about how they intend to shake up the entire financial services industry with blockchain.

12 Jan 2018

7:00 pm to 9:30pm

Venue: University of Tokyo
Room 113, Building 7A
Department of Agriculture, University of Tokyo
1-1-1, Yayoi, Bunkyo-ku, Tokyo, 113-8657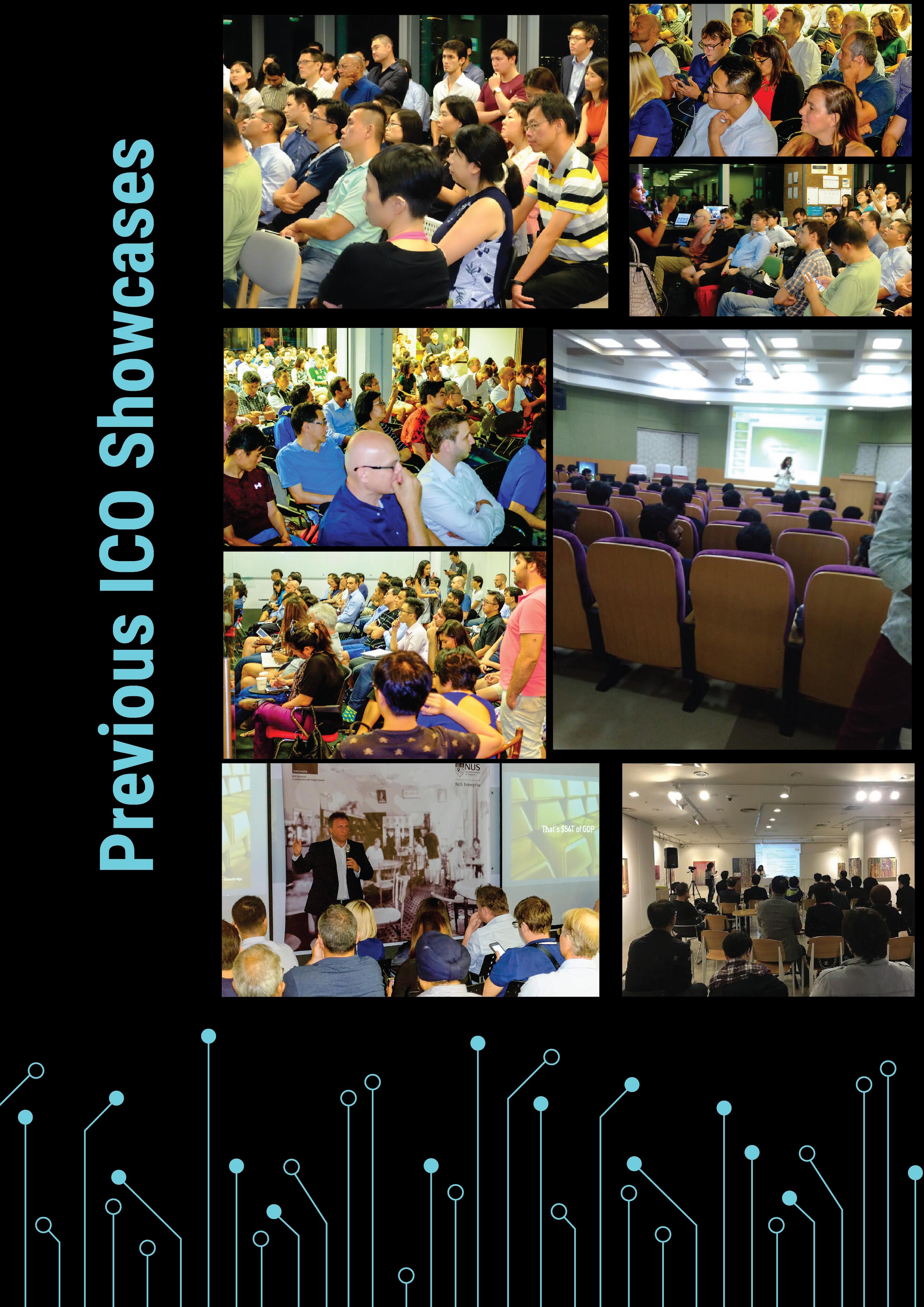 Arifa Khan, a former investment banker with Credit Suisse and UBS has embarked on her global DGCAMP tour to disrupt traditional Investment Banking industry with Blockchain and Smart Contract led Fintech Innovation. She is Ethereum India Partner.

Through the DGCAMP platform, she intends to bring transparency to the global capital market ecosystem which would empower both asset issuers and investors to discover and conduct transactions in a transparent manner. This would shake up the $66 trillion-dollar global securities market backed by cozy investment bankers.

The innovation would usher a beginning of a new era with no role for intermediaries. The platform would knit a core blockchain led infrastructure that would open immense possibilities - Digital IPO, Start-ups raising Venture and Private Equity capital, Corporate Bond Issuance, M&A's and Cross-Border Transactions, Governments issuing Treasuries and other infrastructure bonds – that without paying a hefty fee to Investment Banks!

The technology driven platform would open a channel for the best minds in Asset Management and Investment Banking industry to design innovative applications adding value to both investors and capital seekers. This would be a Google, Apple moment for the Financial Services Industry! And an Uber moment for Investment Banking! Arifa had a successful tour Sep-Dec 2017 : Dubai, Singapore, Hong Kong, Beijing, Shanghai, Kiev, Brussels, Paris , Seoul, Mexico, Davos, Zug, Chennai, Macau, Kualalumpur. She has been meeting Bitcoin and Blockchain community, potential investors, market participants, strategic partners and potential team members in order to build a user community for Capital Coin.

Investment Banks and Trading Exchanges across the world are demonstrating their interest in these technologies with super disruptive potential.


Arifa Khan speaking at a Blockchain Technology Panel at Bengaluru Tech Summit 17-18 Nov 2017 hosted by Govt of Karnataka, India.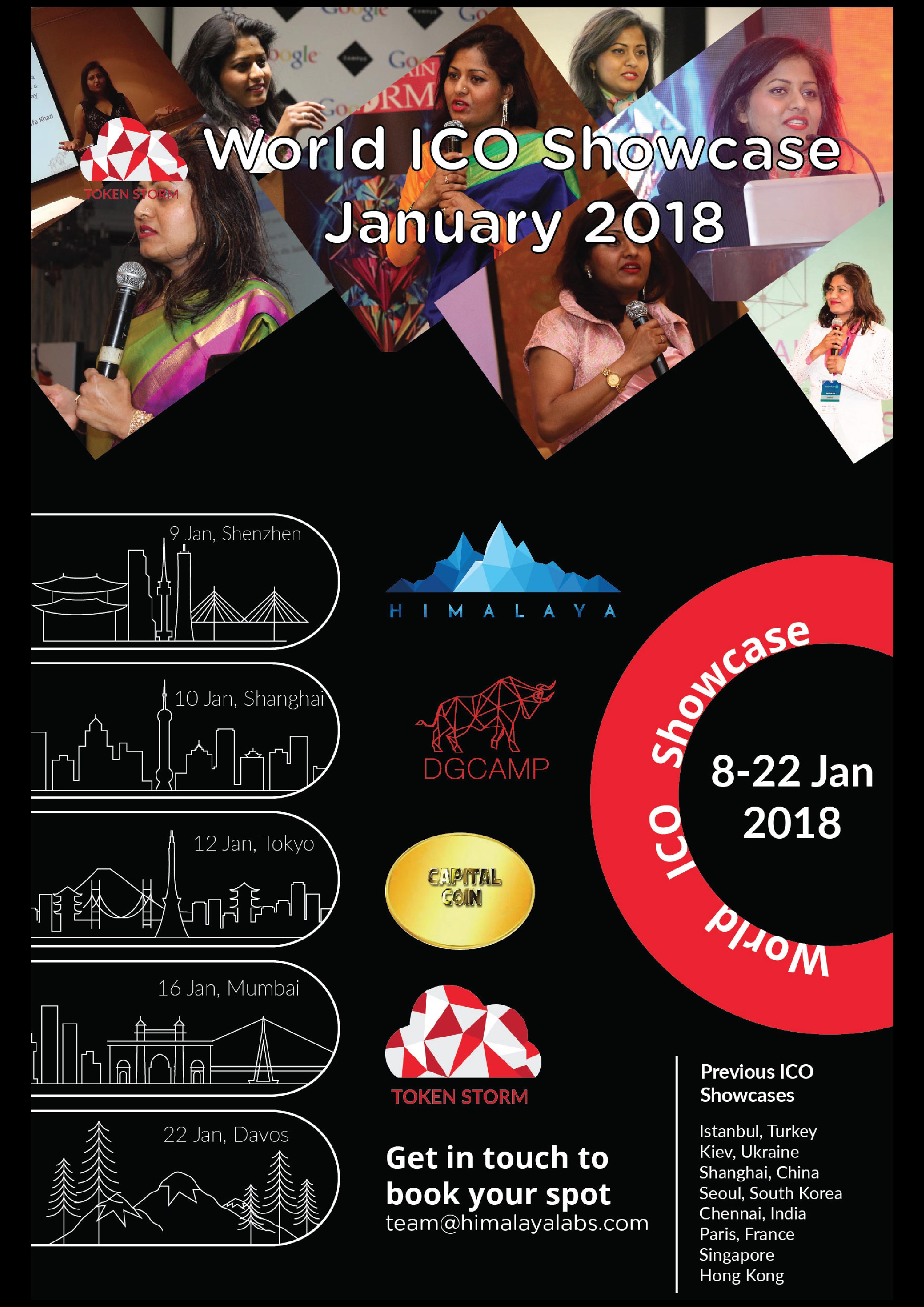 Blockchain World Showcase - Dates - January 2018

2-4 January 2018 - Shenzhen Blockchain Workshop, Shenzhen, China

4-6 January - Ethereum Dev Hackathon on Decentralised Exchanges - Singapore 8 Jan Seoul , World ICO Showcase, South Korea

9 Jan Shenzhen, Blockchain Showcase, China

10 Jan Shanghai, Blockchain Showcase, China

12 Jan Tokyo, World ICO Showcase, Japan

16 Jan Mumbai, World ICO Showcase, India

22 Jan Davos, Switzerland - World Economic Forum Special !!
31 Jan, London Business School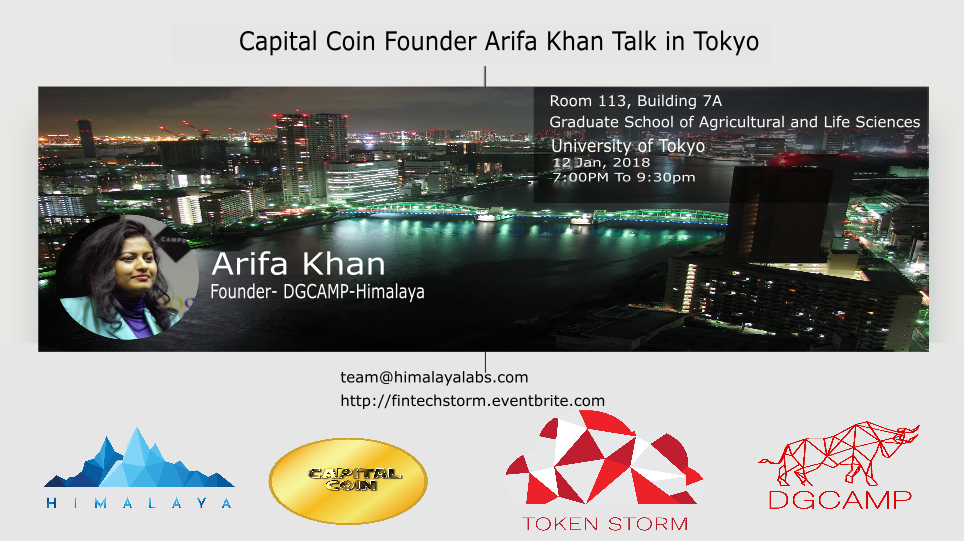 Have questions about Smart Contracts Lecture by Arifa Khan, Capital Coin, Uni of Tokyo 12Jan 7pm?
Contact Blockchain Storm
When & Where

University of Tokyo
Room 113, Building 7A
1-1-1, Yayoi, Bunkyo-ku, Tokyo, 113-8657
Tokyo, Tokyo 1138657
Japan

Friday, January 12, 2018 from 7:00 PM to 9:30 PM (JST)
Add to my calendar
Organizer
Fintech Storm Series is a spectacular monthly series which started at Google Campus London for fintech folks by fintech folks. We started in 2014 and have hosted around 100 events featuring 100s of fintech & blockhain companies so far . Our famous speakers include Vitalik Buterin, Founder of Ethereum, Nick Szabo. We have featured 100s of companies and CEOs before they hit big : such as Blockchain.info, Revolut, Currency Cloud, Boku, Zapp, Bango, Everledger, Realex Payments, Sage Pay, Azimo, Invoice Sharing, Friendly Score, Invest Up, Azimo, TransferGo, Ixaris, YoYo, iZettle etc. 
To see detailed profiles of speakers and to register visit:
http://fintechstorm.eventbrite.com