Smart City Platform Symposium Without Borders on the Topic "Challenges and Opportunities during COVID-19" | 10-11 June, 2020 | Cyberspace
About this event
Link to Join the Webinar:- https://us02web.zoom.us/j/87930340783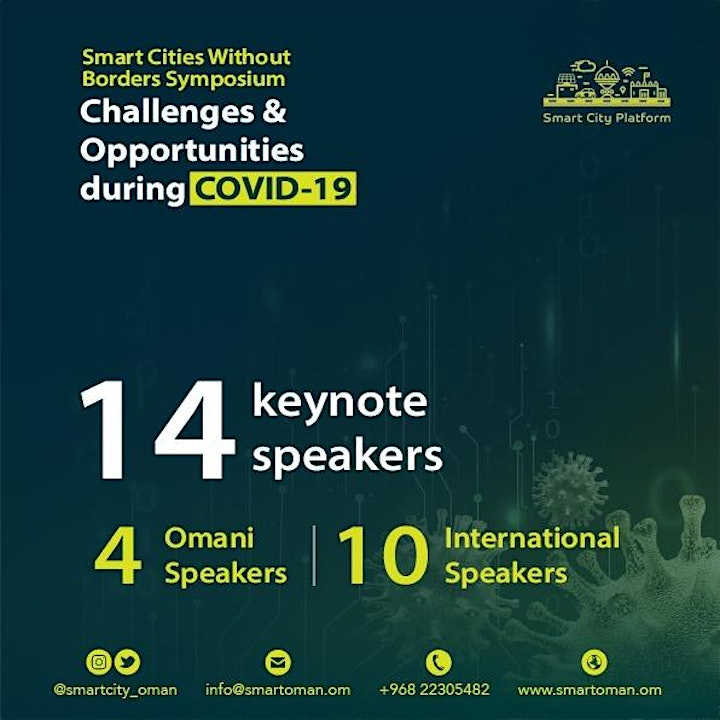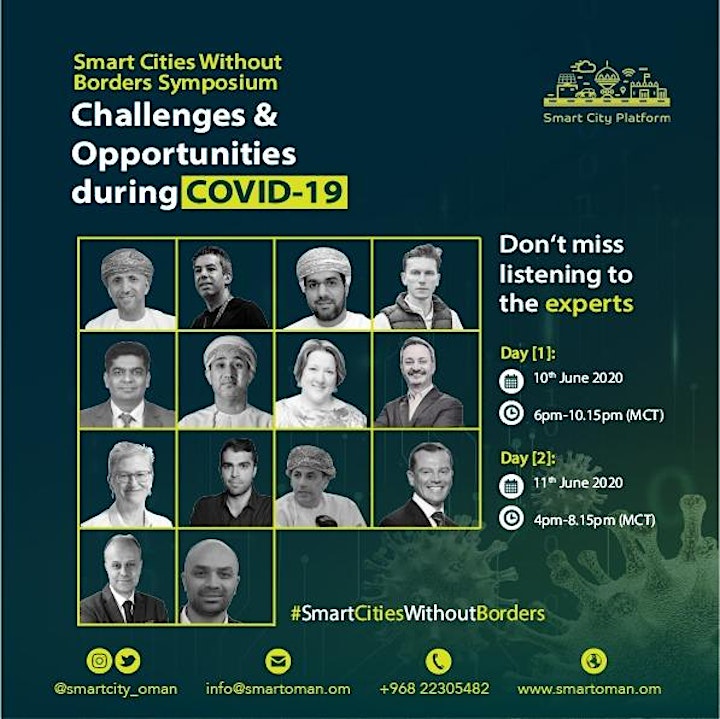 The orientation towards consolidating the concept of smart cities globally had been a requirement in the past few years among few countries, but the pandemic COVID-19 has changed the equation in many countries towards utilizing modern technologies. Even those countries that preceded adopting smart city projects raised the bar of requirements and needs due to the existence of unexpected new challenges that need to be included in its plans on how to organize and implement smart city guidelines and frameworks.
This Symposium Without Borders is organized by Oman Smart City Platform www.smartoman.om with the aim of discussing the challenges and opportunities facing smart cities before, during, and after the COVID-19 pandemic and solutions that can be found by identifying the experiences of professional practitioners and researchers in smart city technologies and trends.
Event ObjectivesThe event is a series of interactive sessions delivered by experts. The topics of the events centered on the following objectives:1. Identifying the challenges and opportunities for smart cities that resulted from the Covid-19 pandemic.2. Highlighting successful models of smart cities around the world and identifying the reasons for their success.3. Promoting the importance of adopting the concept of smart cities to stakeholders most importantly to the decision makers.4. Recognizing the latest research and results regarding the effectiveness of smart cities in improving the economy, education, and living standards of society.
Event Scope
The event will cover the following themes:
1. Smart Governance and Economy
2. Smart Health Monitoring
3. Smart Data Collection
4. Regulations of Smart Cities
5. Sustainability of Smart cities
6. Smart City Indicators
7. Top 4IR technologies used during COVID-19
8. Smart Cities Initiatives
The Global Community is encouraged to register here to attend this event virtually.
Contact DetailsCoordinator:
Dr. Huda Salim Al Shuaily
Email Address: info@smartoman.om
Mobile Phone: 99299570