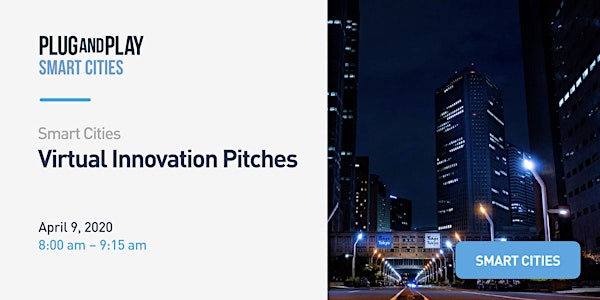 Smart Cities Virtual Innovation Pitches
Plug and Play's Smart Cities Innovation Pitches
About this event
At Plug and Play, we want to define the future of Smart Cities together with you.
Please join us for a virtual innovation pitch session with startups that drive the development of four selected problem areas in our cities of the future. Get to know the 3 best startups in our ecosystem in each section that create the technologies and solutions to make our cities smarter!
Join us on zoom here: https://bit.ly/SCInnovationDay
AGENDA (in Pacific Time AM)
8:00 am - 8:10: Opening Remarks
8:10 am - 8:30: Integrated Mobility in Smart Cities
How might we facilitate the end-to-end citizen journey to move from A to B?
Startups: Coyero, Ducktrain, Tortoise
8:30 am - 8:50: Smart Micro-Infrastructure
How might we harvest data from sensors in the cities and which new business models are evolving from it?
Startups: XIris, Lunewave, KX
8:50 am - 9:10: Climate Resilience
How might we use smart technology to make our cities more resilient against climate change and natural disasters?
Startups: Climacell, Froglabs, Alchera
9:10 am - 9:30 am: Internet of Construction
How might builders leverage the internet of things on today's job sites?
Startups: Kwant.AI, Inspirit IoT, Eguana