Smart Cars, the Consumer Experience and Broadband: In-Vehicle Telematics

Tuesday, March 19, 2013 from 8:00 AM to 10:00 AM (EDT)
Event Details
You are invited....
to an event of the Broadband Breakfast Club
Smart Cars
the
Consumer Experience
and
Broadband:
In-Vehicle Telematics
http:broadbandbreakfastseries.eventbrite.com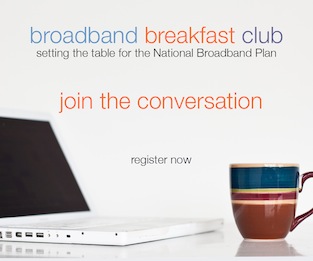 Smart Cars, the Consumer Experience and Broadband:
A Window into In-Vehicle Telematics 
In this breakfast, we will examine some new developments in automotive telematics, specifically, the monitoring features of automotive plug-ins and other smart phone automotive applications. We will be looking at the following: the features of various systems, the role of broadband speeds and ubiquity in the functioning of broadband-enabled features, vehicle safety and data security, and the consumer experience.
This event is on the record and open to the public. 
For News and Events on BroadbandBreakfast.com follow us at http://www.twitter.com/broadbandcensus
Panel:
Steven Bayless
Senior Director of Telecommunications and Telematics
Intelligent Transportation Society of America (ITS America)
Stephen Bayless is responsible for providing guidance to ITS America's Board of Directors and senior staff on matters involving new technologies, wireless services and evolving automotive platforms, intelligent transportation infrastructure, operations and customer services. Steven previously served as staff advisor and Presidential Management Fellow in the Secretary of Transportation's policy office at US DOT headquarters. Steven had cabinet-level lead in policy related to research and development, spectrum management and telecommunications policy. As a detailee to the White House, he assisted in formulation of several presidential directives on aerospace policy, focusing in particular on satellite navigation. He also advised the State Department and the Federal Aviation Administration in negotiations on space and aviation cooperation with the European Union, the Russian Federation and Japan. In the surface transportation domain, Bayless supported secretarial policy initiatives regarding the reorientation of federal research and development, highway safety, and transportation infrastructure finance reform. Steven holds a specialized masters degree from the Fletcher School at Tufts University in International Security Studies and Business. His bachelor degree is in Economics and Foreign Affairs from the University of Virginia. 
Catherine McCullough
Vice President
DCI Group
Catherine McCullough is a government affairs consultant who works with industry-leading clients on matters before Congress and federal agencies. She is a life-long resident of the Washington, DC, area and has worked in politics and policy for over twenty years. Prior to joining DCI Group, she conceived and implemented successful lobby and public affairs strategies for clients with crucial issues in the telecommunications, tech, banking, consumer products, and healthcare industries. Ms. McCullough previously served as a Counsel for the U.S. Senate Committee on Commerce, Science, and Transportation when it was led by Senator Hollings and later when it was led by Senator Inouye. The Commerce Committee oversees and writes laws that regulate much of U.S. industry. There she worked on the subcommittees that oversaw the consumer product, auto, tech, tourism, sports and insurance industries. Her background in data privacy issues led her to a role as a negotiator on the US SAFE WEB Act, which became law in 2006, and the Committee's identity theft prevention bill. Also during her time with the Committee, Ms. McCullough worked on many high-profile issues including post-Katrina oil and gas pricing, steroid use by U.S. Olympic and professional athletes, the "Do Not Call" list, and the Jack Abramoff investigation. Ms. McCullough is a contributor to blogs on politics and policy such as CommLawBlog. She is an attorney and also holds degrees in Journalism and Political Science.
Anupam Malhotra
Senior Manager Connected Vehicles
Audi of America
Anupam Malhotra is Senior Manager Connected Vehicles for Audi of America, responsible for all the operations of the Audi connect® infotainment system and services and the formulation and execution of the company's connected-vehicle strategy with Audi AG. "Pom" Malhotra joined Audi in mid-2010 on a contract basis as a subject-matter expert, but soon it became apparent that connectivity would become a crucial part of the technology proposition for the entire brand, and his position was formalized. He joined Audi initially from his role as head of enterprise quality for location-based services for General Motors' pioneering OnStar brand. "This is an important aspect of Audi visionary thinking as well as a recognition that our customers are very in tune with these types of services," Malhotra said. "We very much believe, and are pursuing, the idea that what consumers do at home and at play in terms of their information and entertainment lifestyles must be accommodated and enhanced by their experience in their Audi vehicle. Infotainment will become a core differentiator among luxury brands going forward; that will be a given." Already, Malhotra said, Audi connect has become one of the top five reasons that customers are telling dealers they want to buy an Audi. And the company has provided a number of "industry firsts" in infotainment, including the first Google Earth feed of satellite imagery to a vehicle's navigation system, the first system to provide Wi-Fi service to as many as eight devices in the same vehicle, and the use of Google Voice Local Search to facilitate the understanding and implementation of verbal commands by the vehicle's infotainment system.

Jeff Stewart
Director – Public Policy, Wireless
AT&T External & Legislative Affairs
Jeff Stewart is responsible for developing AT&T's public policy positions and providing policy guidance to AT&T's business units on issues pertaining to wireless network management, net neutrality, and new applications and services. He also provides policy support and guidance to AT&T's Emerging Devices Organization, which connects a broad range of new devices to wireless networks, including connected cars. Jeff worked in marketing and operations roles at AT&T before joining the Public Policy organization. Prior to joining AT&T, Jeff served on active duty in the Marine Corps. He continues to serve in the Marine Corps Reserve, currently as the commanding officer of an artillery battery in Chattanooga, TN. Jeff has a bachelor's degree in History from the University of Chicago, and an MBA focused on technology innovation from Georgia Tech.
Moderator: 
Russell Holly is the mobile editor for Geek.com, focusing on anything with a touch screen. For the last five years he's focused on mobile and open source technologies as they apply to new computing environments and lifestyle integration. Russell's coverage in the mobile field ranges from security to application development, with a strong focus on user oriented device control or BYOD situations.
Event Details
Title:  Smart Cars, the Consumer Experience and Broadband: a Window Into In-Vehicle Telematics
Date:  Tuesday, March 19th, 2013  8 a.m. - 10 a.m. 
Where:  Clyde's of Gallery Place, 707 7th Street NW, Washington, DC 20001
The breakfast begins at 8 a.m., followed by a discussion, beginning shortly after 8:30 a.m. and ending by 10 a.m.
The Broadband Breakfast Club is a "widely attended event" under House of Representatives Rule 25, clause 5(a)(4)(A).
-----
For individuals outside of Washington, or those whose schedule doesn't permit attendance in person, archived webcasts of the Broadband Breakfast Club are available for free on BroadbandBreakfast.com.
The Broadband Breakfast Club seeks sponsorship of our events from interested companies and organizations.  For details on sponsorship opportunities, please contact Sylvia Syracuse at 646-262-4630 or sylvia@broadbandcensus.com. The Broadband Breakfast Club is produced by Broadband Census News LLC. 
Follow us on Twitter at www.twitter.com/broadbandcensus
______________________________________________________________
The Broadband Breakfast Club is Sponsored By:



When & Where

Clyde's of Gallery Place
707 7th St NW
Washington, DC 20001


Tuesday, March 19, 2013 from 8:00 AM to 10:00 AM (EDT)
Add to my calendar
Organizer
Broadband Breakfast Club
BroadbandBreakfast.com is an internet policy news and events service devoted to breaking news on Broadband policy issues including Broadband Stimulus, Wireless, the National Broadband Plan, Universal Service, and more. Our trenchant articles are free at BroadbandBreakfast.com.

To complement our news service, BroadbandBreakfast.com also hosts monthly "Breakfast Club" events and other special events.
Our Broadband Breakfast Club series meets monthly on the THIRD Tuesday of the month (except for August and December).
Events are held at Clyde's of Gallery Place, 707 7th St. NW, Washington, DC. Metro Stop: Chinatown/Gallery Place.
Events are open to the public and held from 8 am - 10 am, with full Continental and American breakfasts served from 8 am - 8:30 am.
To subscribe to our news service go to BroadbandBreakfast.com.
To register for our next event click on
http://broadbandbreakfast.eventbrite.com
To view our past and future events see 
http://broadbandbreakfastseries.eventbrite.com
To view our event videos see
http://broadbandbreakfast.com/category/broadband-tv/
The Broadband Breakfast Club is Sponsored By:



Smart Cars, the Consumer Experience and Broadband: In-Vehicle Telematics