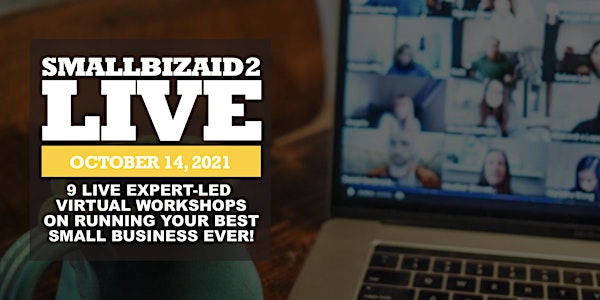 SmallBizAid 2
Helping America's small business get growing again.
About this event
Register Now for Our Second SmallBizAid Virtual Event! Octboer 14! It's Free!
Based on Business Owners' Feedback! We surveyed thousands of small business owners just like you to hear directly what help they need right now. That feedback allowed us to create an event that reflects the tips, tricks and tools needed to assist you in building and achieving your most successful post-pandemic recovery.
Choose from 9 Expert-led Workshops. Our second SmallBizAid event focuses on the critical insights that you want and need to know about now – how to recover and grow your business from the inside, optimizing your finances, your operations, and your people. Check out our workshop topics, speakers and more below! Then register for your free pass today!
Supporting America's Small Business Owners. Our joint mission is to help the creators, the risk takers, the problem solvers, the small business owners just like you restore and grow your business and build relationships with fellow entrepreneurs across the country. Through our network of Small Business Advocates, Influencers and large Business-to-Small-Business brands, we provide support, technology and actionable education to inspire and empower small business owners to transition to new business solutions and practices.
Can't wait until the 14th to connect? Join the Conversation in an Alignable Small Business Owner Group Now! Not an Alignable Member? Join 6.5 Million Small Business Peers for Free Today.
Check out our FAQs.