Exciting new format for small groups, focusing on various topics. | Nuevo formato para grupos pequeños, enfocados en temas variados.
About this event
FREE WORKSHOP | TALLER GRATIS
TOPIC: "Going Back to the Basics Part II"
TEMA: "Regresando a lo Básico Parte II"
Wednesday, October 20th (Español) & Thursday, October 21st (English)
8:00pm-9:10pm
via ZOOM
REGISTRATION REQUIRED | REGISTRACION REQUERIDA
WORKSHOP ON "GOING BACK TO THE BASICS PART II": Using Micah 6:8 in this two part series, our hope is to explore the three part requirement: (1) Act justly, (2) Love mercy and (3) Walk humbly with God.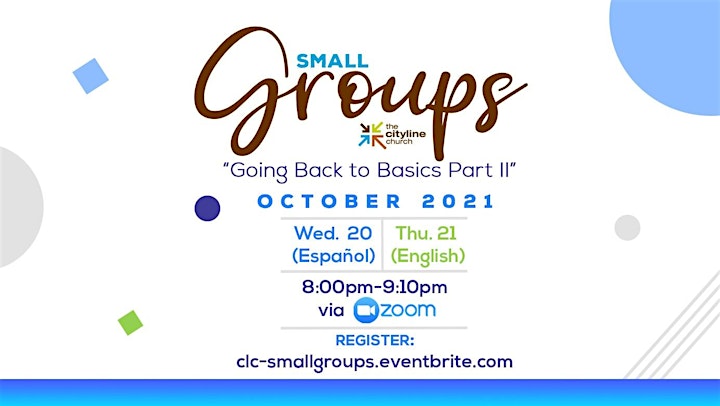 TALLER SOBRE "REGRESANDO A LO BASICO PARTE II": Usando Miqueas 6: 8 en esta serie de dos partes, nuestra esperanza es explorar el requisito de tres partes: (1) Actuar con justicia, (2) Amar la misericordia y (3) Caminar humildemente con Dios.