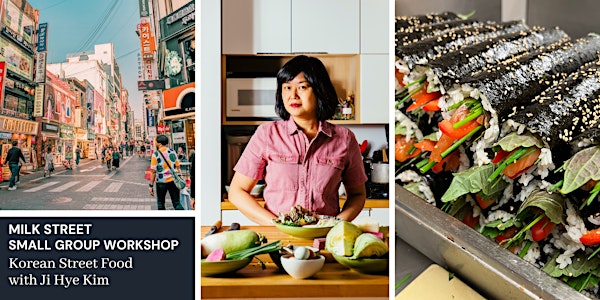 Small Group Workshop: Korean Street Food with Ji Hye Kim
Guest chef Ji Hye Kim is back to take you on a culinary adventure through the streets of Korea.
By Milk Street's Small Group Workshops
Date and time
Wednesday, March 29 · 3 - 4:30pm PDT
Refund Policy
Contact the organizer to request a refund.
About this event
1 hour 30 minutes

Mobile eTicket
NOTE: iphone and ipad users, CLICK HERE to register for the class.
What's on the Menu:
Tteokbokki (Spicy Rice Cakes)
Kimbob (Rice, Vegetable & Seaweed Rolls)
Eomuk (Fish Cakes in Broth)
As you walk down the streets of Seoul, you're hit with the wafting aromas of spicy gochujang, sweet cooked rice and umami-rich fish stew. It's a symphony of great smells—and you can experience it all from home. Join guest chef Ji Hye Kim of the celebrated restaurant Miss Kim for a small group workshop all about Korean street food. First, tteokbokki is perhaps Korea's most beloved street snack, consisting of tender cylindrical rice cakes—which you can purchase premade or make yourself according to Ji Hye's expert instructions—in a spicy red sauce. You'll learn about the history and current use of gochujang, the fermented red chili paste that gives the sauce its bold color. While you snack on your tteokbokki, we'll make kimbob. You might be tempted to call kimbob sushi, but Ji Hye will illuminate the differences, from how the rice is cooked to which dipping sauces are and aren't welcome. Like sushi, though, kimbob is vastly adaptable, bite-sized and surprisingly easy to make with a little professional guidance. To complete a trifecta of Korean street food, we turn to Eomuk, a deeply savory dish of fish cakes—which we'll make ourselves—bobbing in a quick broth whose rich flavor comes from anchovy, kelp and soy. Whether you make one, two or all three of these dishes, we guarantee that the smells and flavors will transport you straight to Korea.
About Ji Hye:
Ji Hye Kim is the award-winning chef/owner of Miss Kim in Ann Arbor, MI. Named one of Food & Wine's Best New Chefs of 2021 and a James Beard Award Best Chef semifinalist, Ji Hye aims to broaden the understanding of Korean cuisine through her cooking. At her acclaimed restaurant Miss Kim — named one of Ann Arbor's "Most Essential Restaurants" by Eater — her seasonal menu is inspired by ancient Korean culinary traditions, and adapted with local Midwestern ingredients.
Born and raised in Seoul, Korea, Ji Hye was introduced to cooking by her mother, a talented home cook who would make large batches of kimchi every fall with seasonal vegetables, dumplings for their annual New Year's parties, and rice cakes for the mid-autumn harvest festivals. When Ji Hye was a teenager, her family immigrated to New Jersey, and Ji Hye went on to study political science and economics at the University of Michigan, before pursuing a successful career in hospital administration. In 2008 at 27 years old, Ji Hye decided to switch to hospitality and immediately immersed herself in the industry, training across the storied Zingerman's businesses and the Rome Sustainable Food Project. She launched her first business, a Pan-Asian food cart named San Street, which she operated for four years, in partnership with Zingerman's.
In 2016, Ji Hye opened her first restaurant Miss Kim, which features a menu inspired by ancient Korean recipes and culinary traditions from her family, while highlighting bountiful and seasonal Midwest ingredients. Signature dishes include Royale Style Tteokbokki (rice cake batons with savory soy sauce, sautéed with shiitake mushrooms and seasonal local vegetables); Buddhist Silken Tofu Soup, a deeply flavored soup inspired by Korean Buddhist cuisine; and Fried Caramel Broccolini tossed with anchovy caramel, almonds, fried onions, and cilantro; among others. A reflection of the restaurant's focus on highlighting the regional diversity of Korean food, Miss Kim also offers three different regional variations of BiBimBob: a pork-heavy version from North Korea that is tossed in rich pork fat and topped with tender pork belly and soy sauce; one from the mountainous region of South Korea, which features rice and potato combining to form a crispy crust as the base for locally foraged mushrooms; and a version of BiBimbob that follows the dietary restrictions of Buddhist monks, incorporating all locally sourced vegetables and no alliums. With Miss Kim's focus on regional intricacies, ancient histories, and its spotlight on local Midwest producers, the restaurant challenges common perceptions of Korean cuisine.
Additionally, Ji Hye is committed to prioritizing fair wages, benefits and equity in the industry, and has been admitted and completed programs like James Beard Chef Boot Camp for Policy Change and Food Lab Detroit's Fellowship for Change in Food and Labor.
Our small-group Workshops are capped at just 25 attendees and are distinct from our livestream Classes. As such, they are NOT included with Insider membership.
Want to give this class as a gift? You can purchase gift cards here.
Immediately after registering, you will get a confirmation email that contains the Zoom meeting log-in information. One week prior to the class (or within 48 hours, if you register less than one week in advance), you will receive instructions on how to prepare ingredients and equipment in order to cook along with us.
After class, you will receive a recording of the event, as well as a packet with recipes and resources that we discuss during the event. If you have any questions about this class, please don't hesitate to get in touch via cookingschool@177milkstreet.com.
This event has limited spots, and you must register in advance via Eventbrite. One sign-up covers one device. Closed Captioning is available for this event.
Payments for Milk Street livestream workshops are non-refundable. If you find yourself unable to attend, you may transfer the ticket to someone else, but we are unable to refund fees and all payments are final.
Proceeds from live stream cooking classes and workshops support Milk Street's non-profit work with The Big Sisters Association of Great Boston, The Boys & Girls Club of Dorchester, and other partners.
Bonus: All attendees of this class will receive a one-time 15% off coupon to the Milk Street Store after class.
About the organizer
Part classroom, part playground and all kitchen, Christopher Kimball's Small Group Workshops are the place to learn to change the way you cook, thanks to personalized attention from Milk Street instructors, staff, recipe developers and special guest chefs from all over the world. In these small classes - capped at just 25 attendees - you'll get your questions answered in real time, take on culinary experiments and tastings, and brainstorm and problem solve together with other students. These are the classes for you if you want to really understand the whys of cooking - not just the hows.
During our Small Group Workshops, you can ask questions of the teachers and other students and cook along (if you like). After class, you will receive a recording of the class, plus a class folder with recipes and links to other materials.
Limited space available per class. Sign up now!