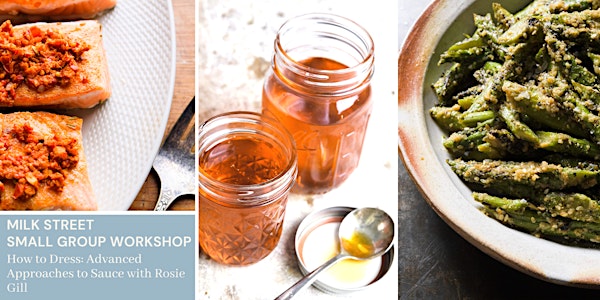 Small Group Workshop: How to Dress: Advanced Approaches to Sauce
Join us to examine four categories of sauces: vinaigrettes, creamy sauces, vegetable-based condiments and herb pastes!
Refund Policy
Contact the organizer to request a refund.
About this event
NOTE: iphone and ipad users, CLICK HERE to register for class.
What's on the menu:
Piri Piri Oil (Portuguese chili- and herb-infused oil)
Basbaas (Somali yogurt and herb sauce)
Gomae sauce (Japanese sesame and soy dressing)
Adjika (Georgian chili and walnut condiment)
Sauce is boss; it's also an immensely hard worker bee transforming simply prepared meal foundations like salads, eggs, chicken, rice, roasted vegetables and beans into complex and exciting meals. Sauce can be thick, thin, emulsified, textured, brightly acidic and luxuriously oily. In this Small Group Workshop, we'll examine four categories of sauces: creamy dressings vegetable-based condiments, infused oils and umami-rich sauces. We'll break each into its component parts and examine how to put them back together to get the desired flavors and textures we seek. You'll also learn four approaches to dressing dishes that are often unexpected, like frying condiments, dressing from the bottom up and using the same sauce hot and cold in one dish. As we discuss, we'll make Piri Piri Oil, a Portuguese chili- and herb-infused oil, Basbaas, a Somali yogurt and herb sauce, Gomae sauce, a Japanese sesame and soy dressing, and Adjika, a Georgian chili and walnut condiment. This workshop is for those who really want to stretch their sauce horizons.
Note: Three of the sauces in this class are quite spicy. We will provide options for reducing or omitting the heat for those who prefer less-spicy food.
In order to cover the material in depth as well as breadth, we will not be making a full meal in this workshop, though we will discuss thoroughly how to use each sauce in meals. If you want to use any sauce from class as part of a full meal the same evening, please have a protein, vegetable and starch prepared in advance. You will need lots of bread or crackers to taste during class!
Our small-group Workshops are capped at just 25 attendees and are distinct from our livestream Classes. As such, they are NOT included with Insider membership.
Want to give this class as a gift? You can purchase gift cards here.
Immediately after registering, you will get a confirmation email that contains the Zoom meeting log-in information. One week prior to the class (or within 48 hours, if you register less than one week in advance), you will receive instructions on how to prepare ingredients and equipment in order to cook along with us.
After class, you will receive a recording of the event, as well as a packet with recipes and resources that we discuss during the event. If you have any questions about this class, please don't hesitate to get in touch via cookingschool@177milkstreet.com.
This event has limited spots, and you must register in advance via Eventbrite. One sign-up covers one device. Closed Captioning is available for this event.
Payments for Milk Street livestream workshops are non-refundable. If you find yourself unable to attend, you may transfer the ticket to someone else, but we are unable to refund fees and all payments are final.
Proceeds from live stream cooking classes and workshops support Milk Street's non-profit work with The Big Sisters Association of Great Boston, The Boys & Girls Club of Dorchester, and other partners.
Bonus: All attendees of this class will receive a one-time 15% off coupon to the Milk Street Store after class.