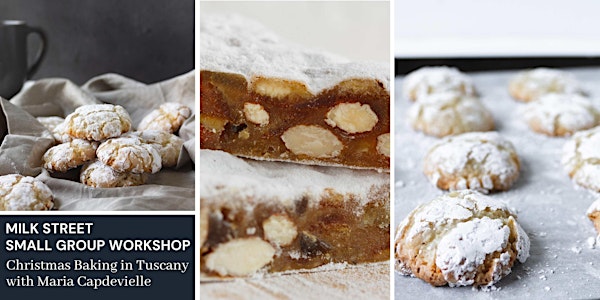 Small Group Workshop: Christmas Baking in Tuscany with Maria Capdevielle
Get your holiday baking on with guest chef Maria Capdevielle to learn how to make two hyper-regional Italian treats!
About this event
NOTE: iphone and ipad users, CLICK HERE to register for the class.
What's on the Menu:
Ricciarelli (Sienese Almond Cookies)
Panforte Margherita
What's your plan for holiday baking this year? If you need new ideas, look no further than guest chef Maria Capdevielle, who is here to transport you to Tuscany—no flights required. At this Small-Group Workshop, you'll learn to make two hyper-regional Italian treats that are so good, you're sure to find yourself making them far beyond the holiday season. First up are ricciarelli, a dense, chewy cookie that use almonds three ways: paste, slivered and extract. Naturally gluten-free, these cookies are subtly sweet, making them a perfect partner to an afternoon tea or post-dinner coffee. Then, we're introducing you to the Italian take on fruitcake. Now, we can't blame you if you hear "fruitcake" and think of rock-hard, inedible creations that are best used as the butt of holiday jokes. But panforte, a confection native to Siena, is going to change your mind. Rather than a bland cake with the occasional blob of fruit, panforte is a dense combination of almonds, candied orange peels, raisins and apricots held together in a batter rich with the flavor of caramelized honey. Maria will show you how to achieve that caramelized honey, which requires a bit of candy-maker's know-how. She'll give you ideas on how to personalize your panforte to feature your own favorite combinations of fruit and nuts. And she'll give you tips on make-ahead techniques and storage for both of your newfound favorite treats.
About Maria: Maria Teresa Capdevielle is the author of "The Secrets of Baking with Olive Oil," a professional pastry chef and a culinary chef/instructor from Abruzzo (Italy). She graduated from the California Culinary Academy in 2003 and did her internship at the famed Chez Panisse in Berkeley, where she learned about hand-selecting and gently preparing perfect produce. Her local experience includes V-Sattui, The Rose Pistola, The Waterfront, The Market Hall, The Townhouse Grill & Restaurant and. She also teaches classes in the SF Bay Area and consults for small restaurants and wineries and help them develop their dessert menu and train their teams. http://www.mariateresaskitchen.com
Our small-group Workshops are capped at just 25 attendees and are distinct from our livestream Classes. As such, they are NOT included with Insider membership.
Want to give this class as a gift? You can purchase gift cards here.
Immediately after registering, you will get a confirmation email that contains the Zoom meeting log-in information. One week prior to the class (or within 48 hours, if you register less than one week in advance), you will receive instructions on how to prepare ingredients and equipment in order to cook along with us.
After class, you will receive a recording of the event, as well as a packet with recipes and resources that we discuss during the event. If you have any questions about this class, please don't hesitate to get in touch via cookingschool@177milkstreet.com.
This event has limited spots, and you must register in advance via Eventbrite. One sign-up covers one device. Closed Captioning is available for this event.
Payments for Milk Street livestream workshops are non-refundable. If you find yourself unable to attend, you may transfer the ticket to someone else, but we are unable to refund fees and all payments are final.
Proceeds from live stream cooking classes and workshops support Milk Street's non-profit work with The Big Sisters Association of Great Boston, The Boys & Girls Club of Dorchester, and other partners.
Bonus: All attendees of this class will receive a one-time 15% off coupon to the Milk Street Store after class.