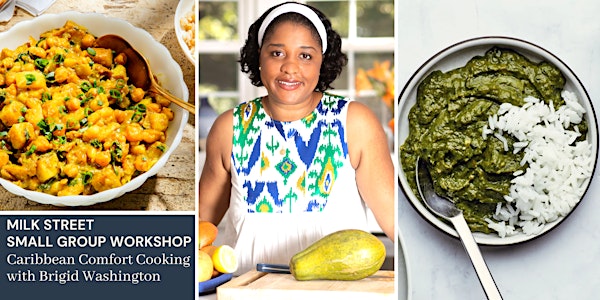 Small Group Workshop: Caribbean Comfort Cooking with Brigid Washington
Guest chef Brigid Washington is your guide to the cuisine of the Caribbean, which you can enjoy without ever leaving home!
Refund Policy
Contact the organizer to request a refund.
About this event
1 hour 30 minutes

Mobile eTicket
NOTE: iphone and ipad users, CLICK HERE to register for the class.
What's on the Menu
Aloo and Channa (Vegan Potato and Chickpea Stew)
Callaloo (Caribbean Braised Greens)
Homemade Trinidadian Curry Powder
Coriander, cumin, fenugreek, turmeric, fennel and chilies: these are the building blocks of a must-have curry blend used in everyday cooking in Trinidad and Tobago, the Twin Islands of the Southern Caribbean. In this workshop—capped at just 25 attendees—guest chef Brigid Washington is your guide to the cuisine of the Caribbean, which you can enjoy without ever leaving home. First up is callaloo, a dish that is deeply rooted in the history of the Caribbean, with origins tracing back to the 16th century, when enslaved Africans used local plant life and aromatics to create a meal out of seemingly nothing. The callaloo Brigid grew up with in Trinidad and Tobago, where it's the national dish, includes taro leaves, okra, pumpkin, coconut milk, onions, garlic and Scotch bonnet peppers. The version you'll learn uses easier-to-find spinach and collard greens instead of taro, and you can substitute butternut squash for pumpkin. The result is a delicious dish that celebrates the traditions of the Caribbean while also giving a nod to the Black culinary traditions of the American South. You'll also learn Brigid's favorite Alloo and Channa recipe, which is where that curry blend—which we'll make ourselves—comes into play. Buttery Yukon Gold potatoes and creamy chickpeas are the perfect hearty winter meal, especially when brightened by the vividly yellow and subtly spicy curry. As we cook, you'll learn about regional variations of these dishes throughout the Caribbean and will get ideas from Brigid on how to pair and serve them.
About Brigid:
Brigid Washington is a journalist, cookbook author, educator and passionate dual citizen. She's a graduate of North Carolina State University as well as a classically trained chef; a graduate of The Culinary Institute of America, where she was also the Editor in Chief of its monthly, La Papillote. Her writing has appeared in Bon Appétit, Epicurious, Food & Wine, Food 52, Real Simple, Taste, The New York Times, The Washington Post, Weight Watchers, among many others. Her debut cookbook, "Coconut Ginger Shrimp Rum: Caribbean Flavors for Every Season" was published by Skyhorse Publishers in the Spring of 2017. Her cookbook and much of her writing and teaching is inspired by the indomitable spirit of the Caribbean table. Brigid lives in Raleigh, North Carolina with her Jamaican husband, and their two delicious children.
Our small-group Workshops are capped at just 25 attendees and are distinct from our livestream Classes. As such, they are NOT included with Insider membership.
Want to give this class as a gift? You can purchase gift cards here.
Immediately after registering, you will get a confirmation email that contains the Zoom meeting log-in information. One week prior to the class (or within 48 hours, if you register less than one week in advance), you will receive instructions on how to prepare ingredients and equipment in order to cook along with us.
After class, you will receive a recording of the event, as well as a packet with recipes and resources that we discuss during the event. If you have any questions about this class, please don't hesitate to get in touch via cookingschool@177milkstreet.com.
This event has limited spots, and you must register in advance via Eventbrite. One sign-up covers one device. Closed Captioning is available for this event.
Payments for Milk Street livestream workshops are non-refundable. If you find yourself unable to attend, you may transfer the ticket to someone else, but we are unable to refund fees and all payments are final.
Proceeds from live stream cooking classes and workshops support Milk Street's non-profit work with The Big Sisters Association of Great Boston, The Boys & Girls Club of Dorchester, and other partners.
Bonus: All attendees of this class will receive a one-time 15% off coupon to the Milk Street Store after class.