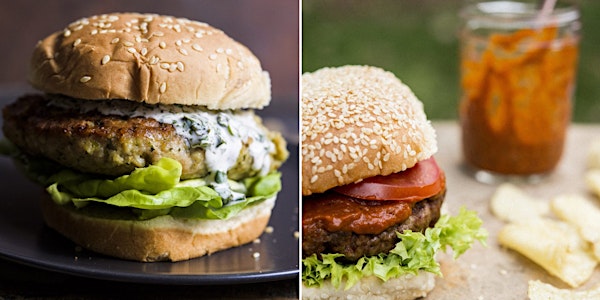 Small Group Workshop: All the Fixin's—Homemade Mayo, Mustard and Ketchup
Join us to learn how to customize the three classics—mustard, mayo and ketchup!
About this event
NOTE: iphone and ipad users, CLICK HERE to register for the class.
Ketchup, mustard, mayo: We could spend all day debating which condiment is king. But why choose one when you could learn to make superlative homemade versions of all of them? In this Small Group Workshop led by Assistant Director of Education and home preserving aficionado April Dodd, you'll learn how to make the three classics and get ideas on how to customize them to suit your tastes. Your first opportunity for customization comes right away as we make mustard. April will help you choose yellow, brown or black mustard seeds that you can soak in your selection of water or beer. April will also make sure you know how to amp up or tone down the spiciness of your mustard. If you're feeling adventurous, you can even make two versions side by side to witness the transformative power of these simple choices. Then, we'll make a batch of smoky ketchup that's so good—much more than the flat store-bought combination of sweet and sour— that it can even stand in for barbecue sauce. Plus, you'll learn how to preserve your ketchup for year-round homemade condiment use, making this creation a great excuse to stock up on perfect summer tomatoes. Finally, you'll learn the science behind emulsions as we make a foundational mayonnaise recipe. As a bonus, April will work with you to decide how to make it your own with the addition of chili sauces, herb pastes or roasted garlic. Join us and discover that you don't need to rely on the pre-made stuff when it comes to condiments.
Our small-group Workshops are capped at just 25 attendees and are distinct from our livestream Classes. As such, they are NOT included with Insider membership.
Want to give this class as a gift? You can purchase gift cards here.
Immediately after registering, you will get a confirmation email that contains the Zoom meeting log-in information. One week prior to the class (or within 48 hours, if you register less than one week in advance), you will receive instructions on how to prepare ingredients and equipment in order to cook along with us.
After class, you will receive a recording of the event, as well as a packet with recipes and resources that we discuss during the event. If you have any questions about this class, please don't hesitate to get in touch via cookingschool@177milkstreet.com.
This event has limited spots, and you must register in advance via Eventbrite. One sign-up covers one device. Closed Captioning is available for this event.
Payments for Milk Street livestream workshops are non-refundable. If you find yourself unable to attend, you may transfer the ticket to someone else, but we are unable to refund fees and all payments are final.
Proceeds from live stream cooking classes and workshops support Milk Street's non-profit work with The Big Sisters Association of Great Boston, The Boys & Girls Club of Dorchester, and other partners.
Bonus: All attendees of this class will receive a one-time 15% off coupon to the Milk Street Store after class.