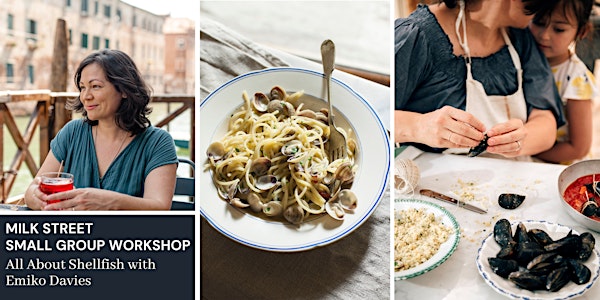 Small Group Workshop: All About Shellfish with Emiko Davies
Guest chef Emiko Davies is back to banish your shellfish fears forever!
Refund Policy
Contact the organizer to request a refund.
About this event
1 hour 30 minutes

Mobile eTicket
NOTE: iphone and ipad users, CLICK HERE to register for class.
What's on the Menu:
Spaghetti con le Vongole (Spaghetti with steamed clams)
Cozze Ripiene (Stuffed mussels)
Plus, how to choose and clean clams and mussels
Shellfish are nutrient rich, generally inexpensive and versatile in the kitchen. So why are so many of us scared to prepare them? The reasons are many: it might be a lack of confidence in selecting shellfish, fear of taking a bite and finding grit between your teeth, or the simple fact of not having good recipes in your repertoire. Well, it's time to say goodbye to all of those reasons and say hello to clams and mussels. Guest chef Emiko Davies, author of "Cinnamon and Salt ," will banish your shellfish fears forever at this Small Group Workshop. As we make spaghetti con le vongole, you'll learn how to prepare clams, which are sold live and need to be prepared carefully to ensure that you keep them fresh and don't get any dreaded sand between your teeth. You'll learn how to prepare them just right in a simple and irresistible mixture of olive oil, garlic and white wine. And—most importantly—you'll learn how to judge doneness so there's never a rubbery, overcooked clam on your watch. Then, you'll learn how to select high-quality mussels and remove their beards before cooking. You'll learn an impressively elegant dish, cozze ripiene, in which steamed mussels are stuffed with breadcrumbs and cheese, closed up with kitchen twine and cooked in a tomato sauce. If the idea of shellfish and cheese seems like the breaking of a cardinal rule, think again: Emiko will let you in on a secret known widely across the Italian region of Puglia, which is that pecorino and shellfish can indeed be very happy together. Join us to learn how to make two delicious shellfish dishes a regular part of your dinner routine.
About Emiko: Emiko Davies is an award-winning Australian-Japanese food writer, photographer and cookbook author based in Italy. Growing up in a diplomatic family, she spent most of her life living in countries other than her own, from China to the USA. After graduating from art school, she ended up in Florence , Italy, in 2005 to study art restoration and fell in love with a Tuscan sommelier. They have recently renovated a new home in a charming hilltop village between Florence and Pisa. Emiko has written five cookbooks, Florentine: The True Cuisine of Florence (March 2016 and a new edition in November 2020), Acquacotta(March 2017), Tortellini at Midnight (March 2019) and Torta della Nonna (March 2021), and her latest book on recipes and the history of Venetian cuisine, Cinnamon & Salt, April 2022. Published by Hardie Grant
She has written about regional Italian cuisine and travel for over a decade. For many years she wrote a regular column for Food52 where you can find over 200 articles on regional Italian food, as well as restaurant reviews for The Good Food Guide, Australia's leading restaurant guide. She is a judge for the Guild of Fine Food World Cheese Awards, develops recipes and writes travel guides for publications such as Financial Times, Corriere della Sera, YOLO Journal, Good Food Australia, The Canberra Times, Saveur, Conde Nast Traveler, Gourmet Traveller, The Sunday Times, The Guardian, Newsweek, The Kitchn, Italy Segreta, delicious magazine and more. Emiko was also nominated as a Rosewood Placemaker for Tuscany in 2021 and you can see some of her exclusive guide to the area here. She was recently named one of 50 powerful women in food by Italy's leading newspaper, Corriere della Sera.
Order yourself a copy of Emiko's new book, "Cinnamon & Salt "! Use promo code MILK2022 for 10% off your order.
Photo Credits: Emiko Davies & Lauren Bamford
Our small-group Workshops are capped at just 25 attendees and are distinct from our livestream Classes. As such, they are NOT included with Insider membership.
Want to give this class as a gift? You can purchase gift cards here.
Immediately after registering, you will get a confirmation email that contains the Zoom meeting log-in information. One week prior to the class (or within 48 hours, if you register less than one week in advance), you will receive instructions on how to prepare ingredients and equipment in order to cook along with us.
After class, you will receive a recording of the event, as well as a packet with recipes and resources that we discuss during the event. If you have any questions about this class, please don't hesitate to get in touch via cookingschool@177milkstreet.com.
This event has limited spots, and you must register in advance via Eventbrite. One sign-up covers one device. Closed Captioning is available for this event.
Payments for Milk Street livestream workshops are non-refundable. If you find yourself unable to attend, you may transfer the ticket to someone else, but we are unable to refund fees and all payments are final.
Proceeds from live stream cooking classes and workshops support Milk Street's non-profit work with The Big Sisters Association of Great Boston, The Boys & Girls Club of Dorchester, and other partners.
Bonus: All attendees of this class will receive a one-time 15% off coupon to the Milk Street Store after class.