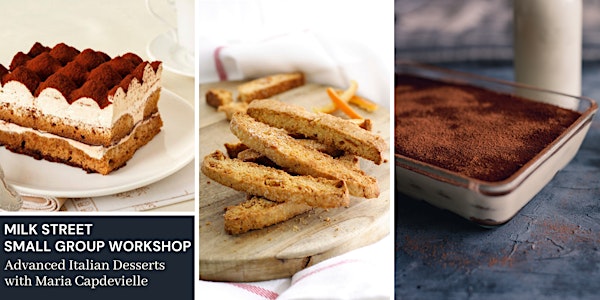 Small Group Workshop: Advanced Italian Desserts with Maria Capdevielle
Join Maria Capdevielle to break down how to make two elegant and sometimes challenging Italian treats.
About this event
NOTE: iphone and ipad users, CLICK HERE to register for class.
There are certain desserts that are extraordinary when done right and simply inedible when done wrong. Case in point: biscotti and tiramisu. A perfect biscotti should be crisp but not tooth-shattering, crumbly but not dusty. Tiramisu ought to be an elegant balance of tender savoiardi (ladyfingers), boozy Marsala and a punch of espresso—but too often it's a soggy, one-note mess. Join guest chef and Italian baking extraordinaire Maria Capdevielle for a workshop where you'll learn to make the good versions of both of these Italian treats. You'll learn the science behind biscotti's two bakes (after all, "twice cooked" is what biscotti means) and will get Maria's recommendations on how to successfully switch up the flavorings of your biscotti for near-infinite variations. Then, you'll see why espresso syrup—not straight-up espresso—is a strategic choice in tiramisu. You'll learn to make a luscious Marsala-spiked custard so good you might find yourself making it to enjoy on its own. And, of course, you'll get Maria's tips on sourcing cocoa powder that will do your homemade creation justice. If these two desserts seem like they can only come from great bakeries or exceptional restaurants, join us to be proven wrong.
About Maria: Maria Teresa Capdevielle is the author of "The Secrets of Baking with Olive Oil," a professional pastry chef and a culinary chef/instructor from Abruzzo (Italy). She graduated from the California Culinary Academy in 2003 and did her internship at the famed Chez Panisse in Berkeley, where she learned about hand-selecting and gently preparing perfect produce. Her local experience includes V-Sattui, The Rose Pistola, The Waterfront, The Market Hall, The Townhouse Grill & Restaurant and. She also teaches classes in the SF Bay Area and consults for small restaurants and wineries and help them develop their dessert menu and train their teams. http://www.mariateresaskitchen.com
Don't want to wait all the way until September to learn with Maria? Sign up now for her Gelato Workshop on July 20.
Our small-group Workshops are capped at just 25 attendees and are distinct from our livestream Classes. As such, they are NOT included with Insider membership.
Want to give this class as a gift? You can purchase gift cards here.
Immediately after registering, you will get a confirmation email that contains the Zoom meeting log-in information. One week prior to the class (or within 48 hours, if you register less than one week in advance), you will receive instructions on how to prepare ingredients and equipment in order to cook along with us.
After class, you will receive a recording of the event, as well as a packet with recipes and resources that we discuss during the event. If you have any questions about this class, please don't hesitate to get in touch via cookingschool@177milkstreet.com.
This event has limited spots, and you must register in advance via Eventbrite. One sign-up covers one device. Closed Captioning is available for this event.
Payments for Milk Street livestream workshops are non-refundable. If you find yourself unable to attend, you may transfer the ticket to someone else, but we are unable to refund fees and all payments are final.
Proceeds from live stream cooking classes and workshops support Milk Street's non-profit work with The Big Sisters Association of Great Boston, The Boys & Girls Club of Dorchester, and other partners.
Bonus: All attendees of this class will receive a one-time 15% off coupon to the Milk Street Store after class.