Description
POWERTEAM "Quantum Success" Small Business Workshop
Come and learn how to build some new leads, Sales & streams of income! You will leave with great concepts on how to become an inspiring leader, utilize great systems and become 100% laser focused! In addition, you will meet some amazing local leaders and learn processes to connect with others on a deeper level to create the space to do even more business. Perfect for existing companies, start-ups, independent agents & executives in transition. Plus a bonus session on public speaking with Bill Walsh!
MAIN SESSION with Bill Walsh 10:00AM - 12:00PM
HOW TO USE THE BEST LANGUAGE WHEN TALKING ABOUT YOUR BUSINESS

HOW TO CREATE YOUR "MILLION DOLLAR FUNNEL" TO 10X YOUR LEADS & SALES

HOW TO EFFECTIVELY PRESENT YOUR PRODUCTS/SERVICES TO ANY SIZE AUDIENCE

HOW TO ACQUIRE THE BEST MARKETING PARTNERS EVER!

BONUS SESSION ON PUBLIC SPEAKING YOU will have the opportunity to learn from expert coaches on site to help you with all areas of your business including funding, presentation skills, passive income, social media tips plus so much more!
FOLLOWED BY "THE POWERTEAM ENTREPRENUER MASTERMIND"
FROM 12PM - 2:00PM
Come & join Bill Walsh & Team for a fabulous ENTREPRENEUR Mastermind session. You will learn how to leverage the ideas of other brilliant individuals to get fresh concepts to grow your business. At this exclusive event you will be introduced to a process used by major corporations to brainstorm with a group of 20-30 leaders to assist you in creating en even more successful company. The Powerteam Success System will follow a specific program at the event where everyone participates and discovers through a proven method to elevate your communication skills, business initiatives and partnership opportunities like no other group you have ever bee a part of in the past.
* How to Leverage & Optimize powerful contacts
* How to elevate your business and your team.
* How to get fresh ideas through a group brainstorming process
* How to beome laser focused & 100% accountable to yoru goals
* Discover the steps to work with an elite team on your success strategies
THE PROGRAM will include each attendee to speak for a few minutes in a group about your business and recieve priceless feedback from other attendees. It will be a priceless day for anyone serious about building an even more successful business.
Reserve your tickets or Table today! Free Copy of Bill's best Selling Book "The Obvious" in digital form just for attending!
Powerteam International
VIP PRIVATE LUNCH WITH WITH BILL WALSH - UPGRADE TO VIP TODAY!
Speak in a private small group session with top leaders on how to take your business to the next level from 2:00PM - 3:00PM. (VIP LUNCH $49.00)
FREE GIFTS JUST FOR ATTENDING:
POWERTEAM DIGITAL SUCCESS KIT (VALUE $297.00)


PLUS DIGITAL VERSION OF THE BOOK "THE OBVIOUS" BY BILL WALSH (VALUE $19.95)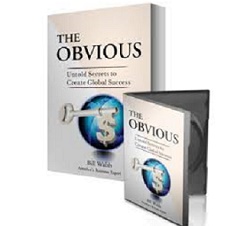 ---
MEET YOUR KEYNOTE SPEAKER
Bill Walsh
Powerteam International
Chief Executive Officer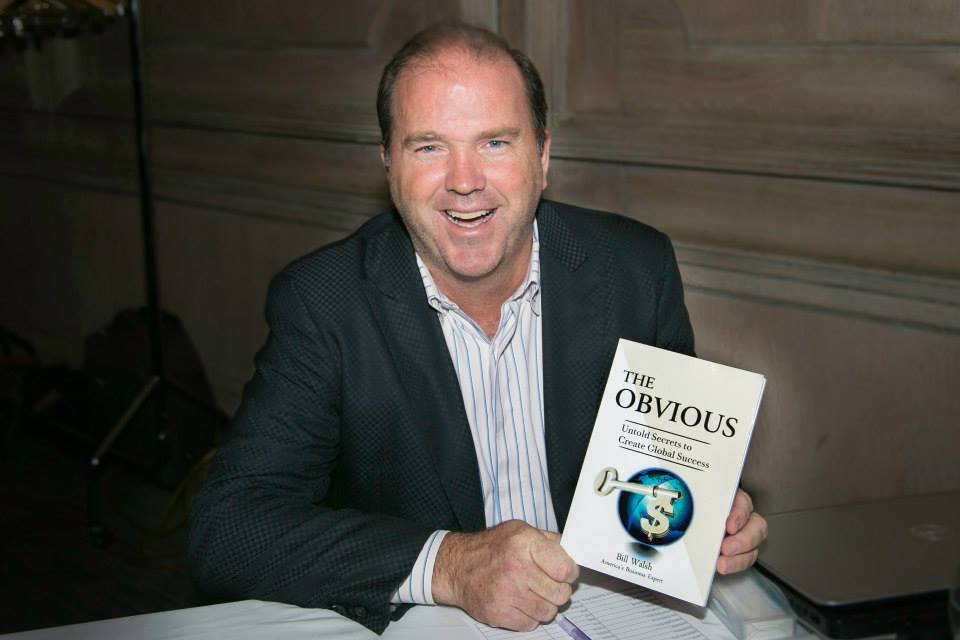 Bill Walsh® is the CEO/Founder of Business Coaching/Venture Capital firm Powerteam International. Bill hosts and speaks at events all over the world! His passion is to empower entrepreneurs and business owners to create massive success. He loves to help people to understand specifically what it takes to build successful companies. He is an accomplished author, speaker, radio personality and movie celebrity, He has a very successful background in finance and marketing. He has spent two decades working with start-ups to major global brands increasing sales, productivity and overall success. He is an innovator with a remarkable ability to determine and dictate success strategy to seize global market opportunities.
Special guest speaker Angel Tuccy
Being interviewed on the radio, podcasts and traditional media opens new doors of opportunity, creates credibility and expands your influence. Angel has broadcasted over 2000 radio shows and she will teach you the steps to attracting journalists, writing a compelling pitch, and most importantly, how to turn your radio interviews into ongoing marketing campaigns to attract more leads and make more money. Let's turn you into a media celebrity!