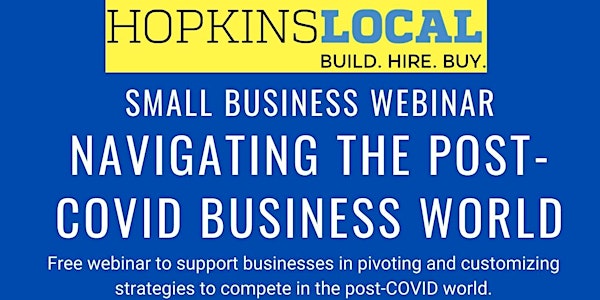 Small Business Town Hall: Navigating the Post-COVID Business World
Join us for a webinar about strategic planning post-COVID for small businesses.
About this event
With the world shut down in response to the COVID pandemic, everyone is asking the same question: When can we back to normal? Though the nationwide reopening is contributing to the economic recovery, the concern remains that the coronavirus resurgence will endanger the economy's comeback just as it starts to appear.
In this small business town hall, we will share a brief overview of the marketplace in Baltimore and to give some suggestions in response to how small businesses could better fit the new trends in business pivots and customize their strategies to build competitive advantages in the post-COVID world. Successful Baltimore-based business owners will share first-hand experience on how they adjusted to the COVID challenges.
Join us for a webinar about strategic planning post-COVID.
Participants will learn about:
The marketplace outlook for Maryland-based businesses
New trends in business pivots
Business strategic planning – How to customize your strategy?
First-hand experiences of business owners adjusting to COVID challenges
Speakers:
Xiaoyu Wang, Current MBA Candidate, Johns Hopkins Carey Business School and CPA
Alicia Wilson, Vice President for Economic Development
Nicholas Johnson, Owner of Su Casa Furniture
Alison Schuch, Owner of Fells Point Surf Co.
Moderator:
Kylie Patterson, Director of Economic Inclusion