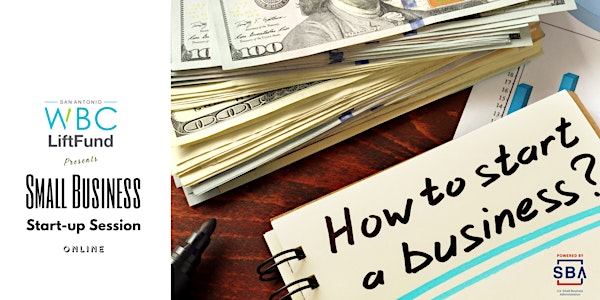 Small Business Start-up Session
Looking to turn an idea into a profitable business? Join us at for this orientation session for entrepreneurs.
About this event
Have a business idea you want to turn into a reality? Join the LiftFund SA Women's Business Center to learn how to get started!
The San Antonio Women's Business Center is excited to present this information-packed session with step-by-step action items you need to consider when launching your small business.
This training is best suited for aspiring entrepreneurs. Please register in Eventbrite to receive a link and obtain the details for joining the session on Zoom.
About the SA WBC
The Liftfund Women's Business Center is dedicated to supporting entrepreneurs, especially women and underserved communities. Funded in part through a Cooperative Agreement with the U.S. Small Business Administration, the SA WBC is an equal opportunity provider and employer. Reasonable accommodations for persons with disabilities will be made if requested at least two days in advance. Contact SA WBC Customer Service at 888.215.2373 ext. 3000 or wbc@liftfund.com.
Are you new to the Women's Business Center? We invite you to become our client. Our services are FREE. From pre-venture to established businesses, you'll find plenty of valuable information as well as next steps and special WBC Insider tips.
If your business operates within our service area (see below), then we'd love to help! Sign up HERE.