This is a FREE 6-week small business training course that begins on Tuesday, January 18, 2022.
About this event
Dreaming of starting your own business? Would you like help on the essential startup steps? Join us for this FREE online course with live virtual instruction for anyone looking to start or grow a small business. You will learn about: Start up steps, business permits, calculating business financials, and much more! Register today to move closer toward your dream of becoming a business owner.
Starting on Tuesday, January 18th and ending within the first week of March.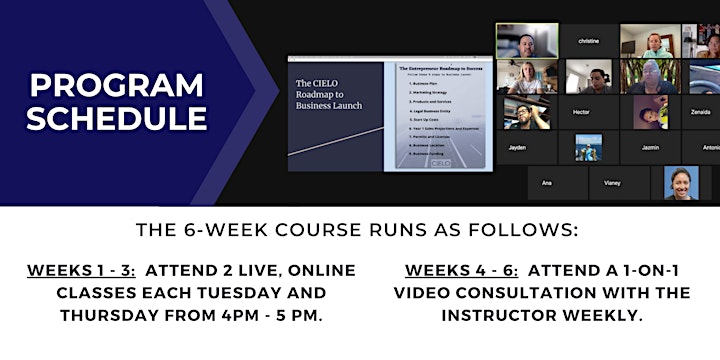 ONLY REGISTERED PARTICIPANTS FOR THIS INITIAL CLASS MEETING WILL BE INVITED TO ATTEND THE REMAINING 5 CLASSES AND 1-ON-1 SESSIONS.
To register*, please complete this registration form, which includes 2 parts:
Providing your basic information (2 minutes)
Completing CIELO's new business owner questionnaire, which helps us match you with the right help (10 to 15 minutes)
Gaby Broughman, CIELO's Case Manager, will be contacting you to confirm your attendance once the registration has been completed. Thank you!
We strongly recommend watching the Welcome Video, which helps you prepare for January 18 (10 minutes):
Check out the recent grand opening of a new CIELO-powered business:
Organizer of Small Business Start Up Program
CIELO is a non-profit organization serving aspiring entrepreneurs and small business owners throughout Orange County. Our mission is to launch successful entrepreneurs by unleashing innovation, creativity and passion. The focus of our mission is to serve under-resourced and underserved entrepreneurs: immigrants, BIPOC, and low-to-moderate income communities. We provide individual support, programs, and resources to help you start or grow a small business. CIELO is a support system to transform your idea into a business. We're here to help you pursue your business dreams!
Currently, all of our courses, workshops, and consultations are only facilitated virtually.