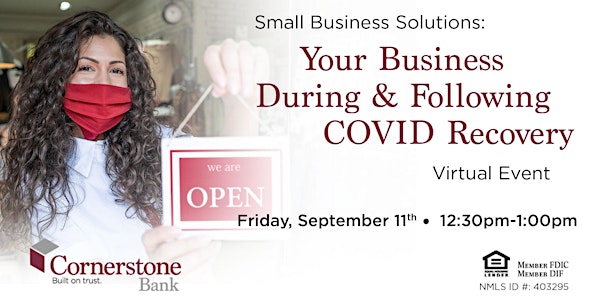 Small Business Solutions: Your Business During & Following COVID Recovery
An event geared toward small businesses to help them navigate and adapt to this year's challenges.
Date and time
Friday, September 11, 2020 · 9:30 - 10am PDT
About this event
Join Cornerstone Bank's Charlton Branch AVP, Senior Market Manager, Sabrina Webb, and Virago Business Development & Consulting owner, Sarah Brown, for a seminar geared toward small businesses to help them navigate and adapt to this year's challenges.
What we'll discuss:
Recognize Yesterday - Local marketplace, established customer needs, traditional product or service
Redefine Today- Understand the new needs of your customers. Safety, value, expediency
Be Skilled for Tomorrow- Supporting the new consumer experience, direct vs. digital
Sabrina will send an email on September 11th before noon to those that RSVP'd to this event. The email will contain information on how to access the Go-To Meeting by phone, tablet, or computer. 
We are recording this event. Your voice may be recorded in the video. By signing up for this event you are agreeing to the terms below.
*I/We  irrevocably consent to and authorize the recording, use, and reproduction of my/our voice by Cornerstone Bank, it's agents or contractual partners for any use whatsoever, without any compensation to me/us. All audio recording and files shall be considered property of Cornerstone Bank.
About the organizer
Cornerstone Bank is a full-service bank located in Massachusetts, and currently operates 12 branch offices. We are a local, community bank that delivers a personal touch that only a local bank can offer. We are dedicated to providing high quality, personal customer service, and convenience for individuals, businesses, and community organizations. We work to connect you with opportunities through a broad range of deposit and loan products and services to help you reach your financial goals.