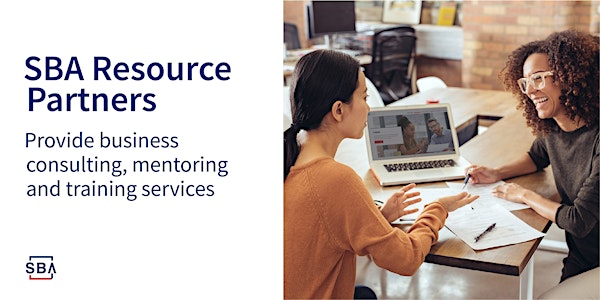 Small Business Mentor Matchmaking
When and where
Location
Houston Community College Alief Hayes Campus 2811 Hayes Road 3rd Floor, Room A319 Houston, TX 77082
Description
SMALL BUSINESS MENTORING THAT'S RIGHT FOR YOU & FREE!
MEET WITH MENTORS & CREATE YOUR PATH TO SUCCESS!
Aspiring and current business owners will meet one-on-one with mentors and advisors from SCORE, SBDCs (Small Business Developments Centers), and the WBC (Women's Business Center) in 20 minute sessions. If you need help with your business plan, marketing, permitting, accounting, legal, or general business advice this is the event for you! This event provides the stepping stone to building a continuing relationship with a mentor and a pathway to more entrepreneurial training and resources.
Agenda:
Registration begins at 8:30am; Matchmaking 9:00am-12:00pm
*Slots are filled on a 1st come, 1st serve basis.

*Attendees/walk-ins can register anytime during the event and will be assigned the next available slot.
The SBA Houston District would like to thank Houston Community College (HCC) and HCC Center for Entrepreneurship for their support and contribution to the event.
All U.S. Small Business Administration programs and services are provided on a nondiscriminatory basis.