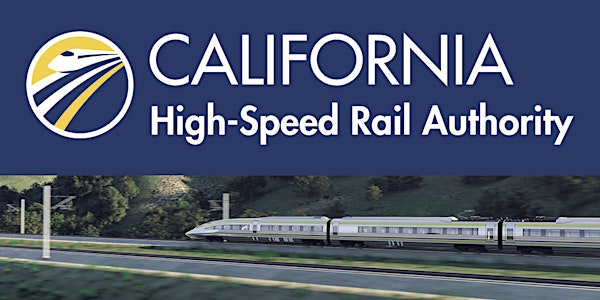 Small Business Matchmaking Event
The California High-Speed Rail Authority and its resource partners are hosting a FREE Small Business Matchmaking Event.
When and where
Location
California Department of General Services 707 3rd Street West Sacramento, CA 95605
About this event
The purpose of the Matchmaking event is to provide small businesses with an opportunity to have 5 minute one-on-one meetings with representatives from the two shortlisted teams for the High-Speed Rail Track & Systems $1.6 billion procurement.
Scheduling for the Matchmaking Appointments are first come first served and will take place at the Event Registration Table onsite.
TRACK & SYSTEMS
The Track and Systems procurement is proposed to be a design-build-maintain contract with a scope of work that includes design and construction of track work, railway systems, and electrification, as well as testing and commissioning. The Track and Systems contract, as proposed, will also include a 30-year term of maintenance for both the underlying civil works and the track and systems work. The Track and Systems work would be issued through multiple Notices to Proceed (NTP) for the Central Valley to Silicon Valley segment.
The Scope of Work includes: design, construction and a 30-year maintenance agreement:
Modern Automatic Train Control (ATC) System - Incorporates functional requirements of Positive Train Control (PTC)
Communication system
Early earthquake detection
Station platforms, canopies and vertical circulation (no buildings)
Overhead Contact System (OCS)
High-Voltage sub station and switching stations to support OCS
Operational Control Center (OCC)
Maintenance of Way Facilities
30-year maintenance responsibilities of constructed civil structures
30% Small Business participation goal
Visit the High-Speed Rail Authority's Track & Systems website for more information.
EVENT AGENDA
The day's Agenda includes:
8:00 AM – 8:30 AM: Registration and Matchmaking Appointment Scheduling
8:30 AM – 8:45 AM: Opening Remarks
9:00 AM – 12:00 PM: Matchmaking Appointments (signups are first come first served)
RESOURCE PARTNERS