"Small Business Fundamentals"- Session 3: Making Great Marketing Decisions

Wednesday, March 23, 2011 from 10:00 AM to 11:30 AM (PDT)
Event Details
The Asian Business Center along with the Asian Business Association present a 5-part webinar series. Part 3 is on Making Great Marketing Decisions.
Upon successful completion of this training, business owners will walk away with the following knowledge:
1. The elements of a marketing plan
2. Understanding your customers and your competition
3. Tailoring your product and price to the market
4. Sales tactics and marketing techniques
5. Balance marketing with running your business
Speaker: Julie Lacouture
Julie Lacouture is the Regional Co-Owner of the Los Angeles franchise of Mom Corps. After working for over 12 years in marketing, advertising, non-profit finance, and general management, Julie decided to fulfill her lifelong dream of running her own company and open a Mom Corps franchise in Los Angeles with business partner Kate Pletcher. Before launching Mom Corps Los Angeles, Julie served as Senior Director at DonorsChoose.org in Los Angeles, where she developed cause-related marketing partnerships with companies such as Disney, Experian, and Paramount Pictures. Previously, she worked in strategic marketing, management and leadership roles for a number of other corporate, academic and non-profit organizations including Sempra Energy Utilities and UCLA/Johnson & Johnson Management Fellows Program in Los Angeles, Oscar Mayer in Madison, WI, Sawtooth Advertising Group in Woodbridge, NJ and Teen Action Campaign, Inc. and Peace Games, Inc. in Boston, MA. Julie graduated Summa Cum Laude with a dual BA in Advertising and Psychology from Syracuse University and an MBA from UCLA.
After submitting payment here, please be sure to complete your registration at aba-la.webex.com.
Organizer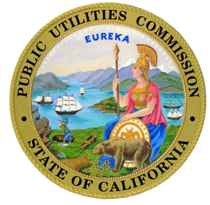 California Public Utilities Commission
The Asian Business Association represents Asian American business owners and creates business opportunities for its members & their diverse communities.
www.aba-la.org