"Small Business Fundamentals"- Session 2: Advantages of MBE Certification

Wednesday, March 9, 2011 from 10:00 AM to 11:30 AM (PST)
Event Details
The Asian Business Center along with the Asian Business Association present a 5-part webinar series. Part 2 is focused on the Advantages of Minority Business Enterprise Certification.
Upon successful completion of this training, business owners will walk away with the following knowledge:
1. Possess the basic understanding of the certification process
2. Understand the differences between all certifications
3. Which certification is deemed the most significant
4. What are the eligibility criteria
5. How to apply for each certification
6. What documents are required
7. Possess the basic understanding of the certification process
Expert Speaker:
Gilbert Buchanan, MA is the principal consultant and founder of Buchanan & Associates, a small business planning and program management firm since 2006. With more than 20 years of industry experience, Gilbert has been successful in providing Infrastructure Development for Small Businesses, Business Plan Writing Workshops, Contract Compliance Monitoring, Pre-construction Outreach, and Small Business Training and Development. He has managed numerous entrepreneurial and public works contracting projects where his unique skills enabled him to assist subcontractors in obtaining more $500 million in contract awards. He has also delivered more than 1,000 training seminars in Construction Contractor Education Programs, and Minority & Small Business Administration (SBA) 8a Certifications Programs. Gilbert has a Master's Degree in Organizational Development with an emphasis on Small Business Administration.
After submitting payment here, please be sure to complete your registration at aba-la.webex.com.
Organizer
Asian Business Association in partnership with...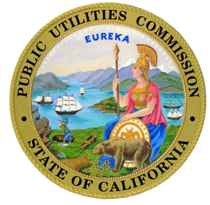 California Public Utilities Commission
The Asian Business Association represents Asian American business owners and creates business opportunities for its members & their diverse communities.
www.aba-la.org