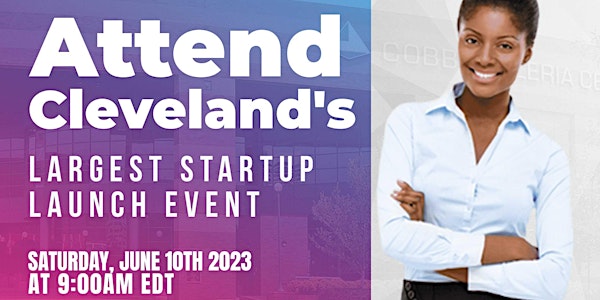 Small Business Day-Cleveland:(Virtual Event) $1,500 in Free Resources
A virtual hands-on event where we teach you how to start a business. All attendees receive $1,500 in free resources!
Date and time
Starts on Saturday, June 10 · 6am PDT
About this event
*Please read details below before registering.*
Join us for Small Business Day- Cleveland and get help from some of the nation's top small business experts to launch your business. Plus, receive $1,500 in free startup resources for attending!
The Small Business Day Startup Process takes you through our hands-on, expert led sessions. Once you successfully complete the Small Business Day Startup Process, you will receive $1,500 in free resources to use toward your business.
* One ticket per startup attendee.
What Attendees Say:
"Very, very informative!!! The information & tips given are priceless! The One Hour Business Plan that we walked thru together was very helpful & eye opening." -Cassandra
"Small Business Day was absolutely amazing! All of the information shared was super-duper on point, the flow of the sessions was so easy to follow; and so many valuable nuggets shared. I am definitely recommending this to my friends." - Anamaria Akins
"Thank you so much. I would definitely recommend this to a friend, and fellow small business owner. The resources are unbelievable! I'm so grateful to have been a part of this event." - Jasmine Richardson
Small Business Day-Cleveland: The Nation's Largest Startup Launch Event.
Interested in starting a small business? Receive practical knowledge and free resources so you can take action and build a successful small business.
Don't have a business idea? We can help you come up with a viable business idea on the day of the event. 
More About Small Business Day: To help accelerate the number of entrepreneurs in the Metro Cleveland Area, The Georgia Crowdfund, Inc. and The Velocity Company launched Small Business Day- Cleveland, the nation's largest one-day startup event. The primary goal of the event is to successfully launch 1,000+ businesses in a 4-hour timeframe. 
How is the day structured? Waiting rooms open at 8:45 am EDT and the event starts promptly at 9:00am EDT. The event will end 4 hours later at 1:00 pm EDT.
About the organizer
Small Business Day works with cities to grow their entreprenurial ecosystems by starting as many businesses as possible in a 24 hour period.