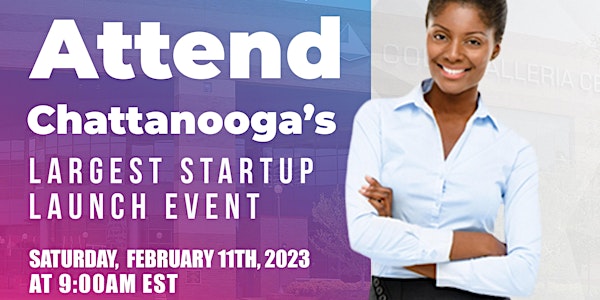 Small Business Day-Chattanooga:(Virtual Event) $1,500 in Free Resources
Small Business Day Chattanooga hosted virtually to ensure the health and safety of our Small Business Community.(Same Free Resources!)
About this event
*Please read details below before registering. *
*Small Business Day-Chattanooga will be hosted virtually to ensure the health and safety of our Small Business Community.* (Same Free Resources!)
*Please reserve a time slot above to participate in the Small Business Day Startup Process. The Small Business Day Startup process takes attendees through a 3-part Startup Process. Once an attendee successfully completes the Small Business Day Startup process, they will receive $1,500 in Startup Resources.
* One Ticket per Startup Attendee.
What Customers Say:
This was by far the best virtual event that we have ever attended. It was super informative, and I didn't even realize that we were in training for 4 hours. Absolutely Amazing.
Frank M.-Atlanta, Ga.
The engagement at the event was great and afterwards we got an email showing us how to access our resources! I called my aunt and all my family during the event trying to get them on!
Casey K.-Locust Grove, Ga
Small Business Day-Chattanooga: The Nation's Largest Startup Launch Event.
Interested in starting a Small Business? Small Business Day-Chattanooga will help hand walk attendees through the process of successfully launching their Small Business while providing over $1,500 in Resources to each Attendee. 
Don't have a business idea? We can help you come up with a viable business idea on the day of the event. 
More About Small Business Day-Chattanooga: To help accelerate the number of entrepreneurs in the Metro Chattanooga Area, The Georgia Crowdfund, Inc. and The Velocity Company launched Small Business Day-Chattanooga, Georgia's largest one-day startup event, which has expanded across the nation. The primary goal of the event is to successfully launch 1,000+ businesses in a 4-hour timeframe. 
How is the day structured? Waiting rooms open at 8:45 am EST and the event starts promptly at 9:00 am EST. The event will end 4 hours later at 1:00 pm EST.