Description
Small Business…BIG Results!
A one day workshop with Mel Larsen, The Dream Project Coach
at The Poetry Cafe, near Covent Garden
*** Book early and save ***
"Are you getting the results you want for your small business or freelance career?"
...are you getting them fast enough?
When you dream of building your business it is beyond frustrating not to get the results you want. It's even worse when you just can't work out what's missing.
Do you have a BIG dream but wonder how on earth you are going to move your business forward? Or maybe you started out strong but everything has sloooowed down. Or maybe you've just realized you are kinda bumbling along and it's time you started to make plans and take this 'working for myself thing' a bit more seriously.
Building a small business or a freelance career can take so much time, money and effort it's all too easy to forget to stop, reflect and plan. It's dangerously easy to forget to pause and re-connect with the passion that got you started in the first place.
Do you have #BigMojoEnergy?
Nobody seems to know exactly what a mojo is but we all like having one and we definitely know when it's not there anymore.
Being in a mojo-less state is painful, hard-work and even embarrassing.
It's time to get your mojo working again
Do you have the right mindset?
How did I go from being a depressed supermarket checkout girl to an in-demand international business coach, trainer and consultant? When I think about the amazing journey I have taken, I have to pinch myself.
Last year I was training cultural professionals in five different cities across Russia – seeing Siberia where it was minus 28 degrees was truly amazing! My work has also taken me across the world to places such as The Caribbean, Australia, New Zealand, South Africa and Scandinavia as well as across the UK.
I've definitely earned these opportunities through putting in the hours but I also see them as a gift that I never take for granted. I had to change my mindset to make it happen and knowing how to do that is the gift. Getting into the right mindset has enabled me to find time to enjoy life and contribute to society as well as growing my income and profile. As well as coaching I love spending time painting and I've also founded three different community-led festivals that benefit my local area.
And how are your Marketing and Money moves?
Mindset isn't enough on its own. You also need to have a strategy for success. I love to share what I have experienced and learned as I too, continue to learn and grow. There are lots of tips and ideas that help a business grow more quickly.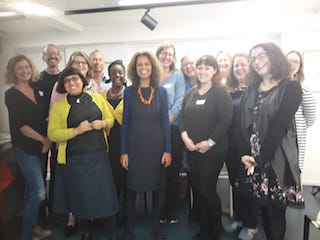 What's on offer?
In this enjoyable, nurturing and engaging workshop you will:
• Create a powerful heart-felt Vision for your small business that re-ignites your passion and keeps it alive over the journey
• Get clear on at least one major Goal that is important to you so you get laser focused on what you want
• Work out what you need to focus on strategically to move forward – quickly identify what's missing and what to do about it action-wise.
You'll also learn the 7 common mistakes I find most small business owners routinely make. I'll give you a simple way of making sure you can avoid them too.
Who is this day for?
"I would recommend Mel to absolutely everyone from a start up operator to a chief executive. Her ability to help you find your power and guide you out of the woods is her unique gift" - Trudy Lister, Trudy Lister PR
This day is designed for freelancers, small biz owners and entrepreneurs with a Dream. As a coach I tend to attract successful people who have a creative and caring approach to life and want to take their business to the next level.
I've coached people who are yoga instructors, consultants, artists, property developers, writers, digital entrepreneurs, shops and cafes, accountants, and charities. They all got great results. What they all have in common is that they were ready to move to a whole new level of success. Even if they were scared, failing at the time, already busy or struggling on a low budget...BUT... they were ready to try something new, to give it a go.
"Would I recommend Mel? OMG yes yes yes!!! I'm coming back for more….. no stopping us now" - Madia Rashid, Physio4Me
"Why would I recommend Mel as a Coach? My answer is simple: results, results, results!" - Donald Seepaul, Graphic Designer/PrintItOnline
As long as you have a dream that you care about and you are willing to review your thinking and your strategic approach and actions, this day will support you in moving forward.
What is the delivery style?
"I really enjoyed the workshop and got loads out of it. I would describe the day as a powerful seminar held by the knowledgeable, positive, energetic Mel to a small group of freelancers and portfolio career professionals, in a relaxed setting. I expected it to be about marketing but it was not a carbon copy of anything I've done before so there was new stuff for me to learn, so I was delighted to learn something new. Yes I would recommend it of course because it was useful. Thank you Mel!" - Victoria Gibbs, Photographer
This is a small group day in an intimate venue. On the day you can expect:
• A small group workshop-style day so your questions get answered
• to go through several creative and strategic thinking and planning exercises that will save you time and boost your clarity and confidence
• short presentations with tips and ideas
• a supportive, fun and encouraging atmosphere
You will leave with:
• an inspiring Vision
• a clear business development Goal for the next 6-12 months
• an identified set of areas and actions for you to focus on developing using my tried and tested system
• supporting materials to take-away
"The content exceeded anything I could have expected. The most important thing I gained from the day was starting to lift the barriers that stop me growing. I would say to others that it is well worth the investment of your time to focus on your future growth and push your self-imposed limiters away. Yes I absolutely would recommend the workshop: the tools and advice were unique and relevant." - Binita Walia, Freelance Communications & Marketing Consultant
"The content was even better than I had expected and the day boosted my confidence. I would describe it as inspirational, practical and incredible value for money. Mel is passionate, confident, knowledgable and supportive and there is always such good energy in her workshops: they feel like a very safe space to share and grow. For all those reasons I would definitely recommend this workshop. Whatever stage you are at in your business there would have been something useful you could take from it" - Anna Hindocha, Warm Glow Photo
So what's next for your business?
Time spent planning your next business move is never wasted. When was the last time you stopped to power up your passion and plans?
"I would certainly recommend Mel. I was able to look at things from a different perspective and explore why I thought about things in a certain way. Mel helped me to see the really great side of me and I felt encouraged that there is still so much more I can do." - Nathifa Jordan, Business & Administration Manager, CultureMix
How to book your place
Places are limited in this small group so if you know you want to attend, it's best to book your place asap to ensure you too get to benefit.
You can get all the benefits of the workshop for just £97 while Early-Bird tickets last (full price: £147).
Looking forward to meeting you soon!
best wishes
Mel