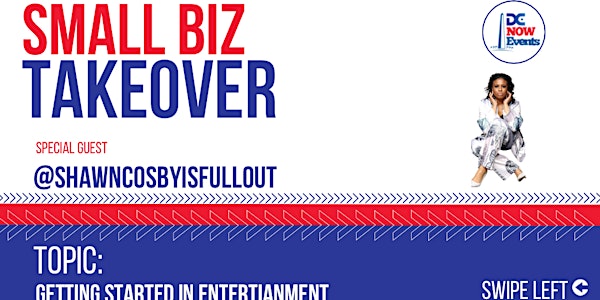 Small Biz Takeover-Getting Started in Entertainment
Small Biz Takeover-Getting Started in Entertainment
About this event
Are you ready for some engagement? gems to be dropped? and virtual networking ALL AT THE SAME TIME?
Tuned in for a special Small Biz Takeover time, on Thursday, August. 18th.2022
at 7:30pm via DC Now Events Instagram Live for a session with:
Shawn Cosby, Writer & Co-Director of 33RD & Memphis
Topic?
Getting Started in Entertainment
Shawn Cosby will speak on:
1)Introduce Shawn
2)Talk about new film 33rd & Memphis
3)How to get started in entertainment industry
4)Film premiere Monday, August 22, AFI Silver Theatre & Cultural Center
Considering #covid19 has been the topic of discussion and creativity!
DC Now x Small Biz Takeover initiative will give hand-picked individuals an opportunity to takeover our Instagram account to share their best-kept strategies and successful formula to our engaging followers.
DC Now x Small Biz Takeover is designed for the everyday person who wants to learn new skills, extend their network, engage in a 20 minute insightful Q&A,and go live with your favorite followers via Instagram from DC Now Events IG Live!
Our objective is to change the way of how followers engages with serial entrepreneurs, creatives, small business owners, and millennial professionals .
We have a passion for connecting business professionals and advancing our community.
This initiative is designed to encourage culture, growth, support, and unity within our target audience, millennial professionals ,and among fellow business owners.
Interested in being a moderator for the DC Now Small Biz x Takeover?
Email us at:
Smallbiztakeover@dcnowevents.com