About this Event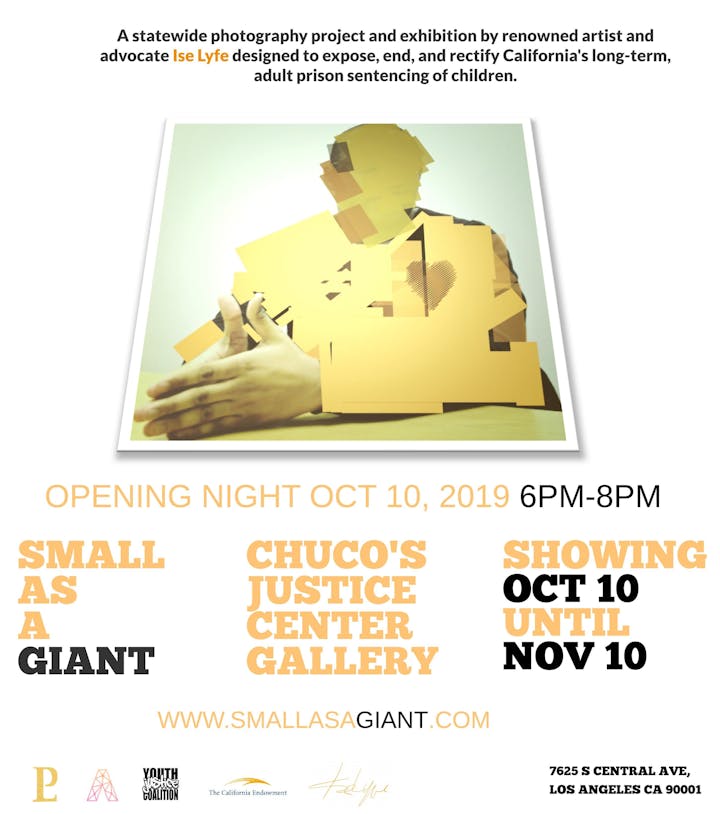 Join us for a the grand opening of Small as a GIANT - a photography exhibit that exposes the inhumanity and ineffectiveness of juvenile incarceration - particularly long-term sentencing of youth. The exhibit includes photos, audio and other multimedia components highlighting individuals who were sentenced to 20+ years in prison when they were under the age of 18. Small as a Giant is a tangible tool and glaring statement to influence and empower communities, stakeholders, voters, and politicians to change polices that fuel one of America's most egregious human rights violations: locking up children for what amounts to their entire lives. Small as a GIANT is poised to be the most compelling and galvanizing justice based artistic engagement of 2019-2020.
*Appetizers & drinks will be provided.
To learn more about smallasaGIANT, visit our website
About the Artist: Ise Lyfe
Ise Lyfe is an award-winning conceptual artist, justice advocate, author and educator. He is one of the leading Spoken Word artists in America, with a broad fan base stemming from his appearances on several commercial market platforms and his social and political commentary, which exists in the realm of published works, major network guest commentary, and university lecturing. You can learn more about Ise here.
A Glance at Our Statewide Premiere of Small as a GIANT in San Bernardino
Small as a GIANT first premiered in April 2019 in San Bernardino at the Anthropology Museum at the University of California San Bernardino. Small as a GIANT saw a great flow of visitors and attendees raising awareness and creating platforms for education and advocacy efforts in the region.