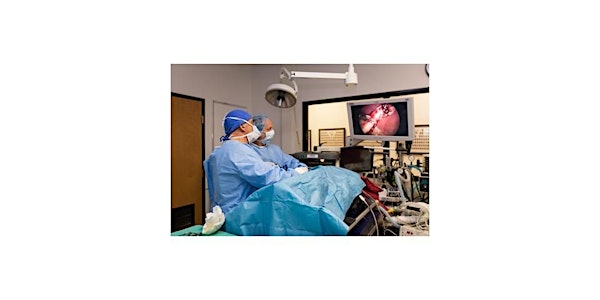 Small Animal Laparoscopy Course for Veterinarians & Veterinary Technicians
Location
Western University
College of Veterinary Medicine
309 E Second St. Pomona, CA 91766
Pomona, CA 91766
Refund policy
Refunds up to 30 days before event
Eventbrite's fee is nonrefundable.
Description
Introduction
Minimally invasive laparoscopic surgery is increasing in demand in small animal practice. Research shows that defined training programs and repetition of skills are essential to procedural success with minimal complications. We are offering a basic laparoscopic surgery course intended for veterinarians with minimal or no previous experience in the field. The course goal is to deliver essential basic theoretical knowledge about laparoscopy and provide opportunities for practical experience in basic laparoscopic surgery using bench-top models and progressing to live patient procedures. Equipment company representatives will provide valuable information for adding this modality to your practice. By the end of the course, participants will be prepared for developing and commencing safe laparoscopic practice.
The first day will include an introduction to equipment and instrumentation via lectures and videos focusing on the use of the laparoscopy instruments; explanation of the different laparoscopic basic skills training tasks; and specific procedures such as biopsy (liver, pancreas and kidney), ovariectomy, thoracoscopy, and laparoscopic assisted procedures (intestinal biopsy, gastropexy and cystostomy). During the remainder of the first day, participants will learn basic laparoscopic skills (peg transfer, pattern cutting, suturing, and practicing the cautery-cutting device) and laparoscopic procedures (laparoscopic portals, insufflation, biopsy and ovariectomy) using laparoscopic training models. In the end of the first day instructors will perform laparoscopic surgery demonstration on a live dog including laparoscopic abdominal exploration follow by ovariectomy.
The second day of the course will include practical laparoscopy surgery procedure (laparoscopic abdominal exploration, and ovariectomy) on live dogs.
Veterinary Technician Training for Basic Minimally Invasive Surgery
This course is open also for veterinarian technicians. Technicians are a vital component of the Minimal Invasive Surgery (MIS) team. During this course, in addition to the lectures and training on models (activity common to DVMs & RVTS) the technicians will have special sessions to learn about preparation of MIS equipment and instrumentation, preparation of patients for MIS procedures and all the anesthesia considerations for patients during MIS that occur as a result of abdominal insufflation. They will be ready to go!
Instructors and lecturers:
Dr. Ohad Levi, DVM
Dr. Maria Fahie, DVM, DACVS
Dr. Dominique Griffon, DMV, MS, PhD, DECVS, DACVS
Dr. Lyon Lee, DVM, PhD, DACVAA
Dr. David Clark, DVM, DABVP
Dr. Young Joo Kim, DVM
Ms. Annette Chavarria-Marron, RVT
Ms. Leslie Tortez, RVT
Ms. Liz Villagran, RVT
Ms. Prisma Martinez, RVT
Mr. Matt Willis, Karl Storz, North America
Ms. Meredith Anderson, Medtronic
Schedule
Day 1 – Saturday, May 16th, 2020
DVMs & RVTs
7:30 - 8:00 Breakfast (provided) and check-in
8:00 - 9:35 Dr. Ohad Levi: Introduction to Laparoscopy- Equipment/instruments, procedures and Laparoscopy surgery complications
9:35 - 9:50 Coffee break
9:50 -10:20 Dr. Dominique Griffon: Arthroscopy in small animals
10:20 - 10:50 Dr. Lyon Lee: Anesthesia principals under insufflation
10:50 - 12:00 Laparoscopy procedure, laparoscopic training on models (basic Laparoscopic tasks, biopsy, and ovariectomy)
12:00 - 12:30 Lunch (provided), round table Ovariectomy vs. Ovariohysterectomy (Dr. Fahie)
12:30 –14:15 Laparoscopy procedure, laparoscopic training on models (basic laparoscopic tasks, biopsy, and ovariectomy) continue.
14:15 – 14:30 Coffee break
14:30- 17:00 Laparoscopic ovariectomy procedure on a live dog (demonstration by instructors).
Day 2 – Sunday, May 17th, 2020
Veterinarians and Veterinary Technicians
8:00-8:30 Breakfast (provided)
8:30 -10:10 Surgery - laparoscopic basic technique and laparoscopic ovariectomy on live dogs
10:10-10:25 Coffee break
10:25 - 12:05 Surgery - laparoscopic basic technique and laparoscopic ovariectomy on live dogs
12:05-13:00 Lunch (provided)
13:00 – 14:40 Surgery - laparoscopic basic techniques and laparoscopic ovariectomy on live dogs
14:40-14:55 Coffee break
14:55 – 17:15 Surgery - laparoscopic basic techniques and laparoscopic ovariectomy on live dogs
Registration fee:
Veterinarians $1900
Veterinary Technicians $500
Payment:
Only credit card payments are accepted through eventbrite
Registration is limited to nine veterinarians and four Veterinary technicians. Once the registration is full, additional names will be placed on a waiting list. If any spots become available, we will contact you. Any questions please contact Dr. Ohad Levi olevi@westernu.edu or CVM Continuing Education Coordinators Ms. Nicole Jimenez at CVMCE@westernu.edu
Continuing Education Credits: 17 CE Credit*
* This continuing education program has been submitted to the Western University of Health Sciences College of Veterinary Medicine (WU-CVM) Continuing Education Committee (but not yet approved) for 17 hours of continuing education credit. This CE credit would be provided by WU-CVM as an AVMA accredited veterinary college and participants should be aware that some veterinary medical boards have limitations on the content and provider of continuing veterinary education credit. Please consult your states practice act.
Cancellations and Refunds:
Cancellations greater than 30 calendar days prior to the start of the event will result in a refund of 100% of registration costs. Cancellations less than 30 days prior to the start of the event will result in no refund
Travel:
Local airports are Ontario International (ONT ~15 minutes) and Los Angeles International (LAX ~ 60-120 minutes).
Staying at Sheraton Fairplex shuttles can be arranged for transport to/from Ontario airport.

If traveling in/out of LAX please keep in mind estimated travel time could be a minimum of 2 hours.
Lodging:
Pomona
Sheraton Fairplex - Pomona, CA (Shuttle transportation provided)
Chino Hills
Ayres Hotel Chino Hills, CA (Shuttle transportation provided)

Hampton Inn & Suites Chino Hills, CA
Claremont
Double Tree by Hilton Claremont, CA

Hotel Casa 425 + Lounge, CA
Special Thank You to Karl Storz – Endoscope and Medtronic for their continued support for WesternU CVM Laparoscopy training program.