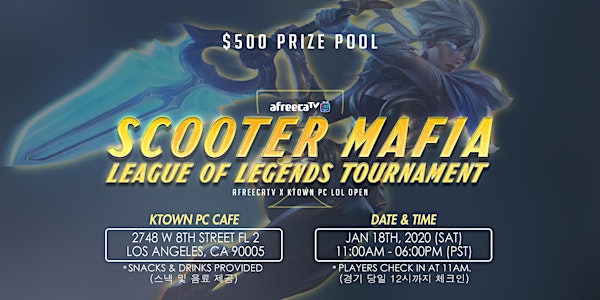 SM x AfreecaTV - League of Legends Mixer Tournament
This is a League of Legends mixer tournament where we will match you with other people at the venue. It is a great way to meet new people!
By Taisei Terasaka& Eugene Jang
Date and time
Saturday, January 18, 2020 · 11am - 6pm PST
Location
K-Town Pc Cafe 2748 West 8th Street ##201 Los Angeles, CA 90005
About this event
UPDATE:
Thank you to everyone who came out to support us and the people who spread the word about our event! This was our first event we hosted and it was a huge success thanks to you guys!
If you guys want to be up to date on our future events, follow our instagram at:
taisei.jpg
gene.eu
Feel free to reach out to us as well! See ya!
(The winners of the tournament will be contacted via email by Afreeca)
Overview
• This is a SM x AfreecaTV collaboration in the heart of Koreatown! We will be hosting a League of Legends mixer tournament at K-town PC Cafe. What is a mixer tournament? The mixer tournament will be us selecting teammates at the venue for you to create new friendship and bonds you meet newly. Don't worry, you can come solo or even as a pair (duo) and we will match you with corresponding teammates so come and have fun on the rift!
Date & Location
Date: January 18, 2020
Location: K-Town PC Cafe
Address: 2748 W 8th Street, FL 2 , Los Angeles, California 90005
Event link: https://www.facebook.com/events/749564615547731
https://events.na.leagueoflegends.com/events/409920
Registration Fee
• $5.00 Tournament Fee + $5.00 Venue fee ($10.00 total) Please pay at the front when you arrive at the venue.
• Registering on Eventbrite will assure you will have a spot for the tournament and as a way to RSVP your spot!
The tournament fee will go straight to the prize pool and the venue fee will help keep this event running in the future and to pay for our cost of the venue.
Registration Process
• You must register online here or at the venue before the event begins.
• All Participants must bring their ID on the day of the event (for safety reason, purposes in case of emergency and security reasons.
*Max: 40 to 50 participants
Team Selection & Match
• We will be asking each players their skill level within the game and the teams will be created based on those data. You may come solo and we will match you with 4 other players at the venue for a team. A player may also bring up to (1) other player as a duo to be on the same team and we will match the duo with 3 other players.
Round Robin Rules
• Each round a team will face every other team at the tournament in a Bo1 format.
• Winner will gain a point for each win. Teams with the most points will be crowned victors.
• Any teams with equal points will go through a tiebreaker match.
Prize:
• Thanks to our sponsor, AfreecaTV will be putting in a pot bonus of $500.00 USD !
• Riot Games has now approved officially our event and will be presenting RP + exclusive tournament winner skins to winners! https://events.na.leagueoflegends.com/events/409920
• 1st place team(50% of prize pool) + 1500 RP + Triumphant Ryze Skin + Mystery Icon
• 2nd place team(30% of prize pool) + 1000 RP + Mystery Icon
• 3rd place team (20% of prize pool) + Mstery Icon
Breach of Rules
• Foul language, offensive and disruptive behavior will not be tolerated from any player and will result in the following:
• No griefing or intentional feeding.
Extra rules
• Personal Gears permitted
• NO outside food or drinks permitted exclusion water.
• NO Hacking / 3rd party software.
Schedule
11:00 A.M - 12:00 P.M : Registration
12:00 P.M - 12:30 P.M : Team Selection
12:30 P.M - 01:00 P.M : Team Discussion / Strategy Time / Team Ice Breaker
01:00 P.M - 05:50 P.M : Tournament
5-min Break time will be given after each game.
05:50 P.M - 06:00 P.M : Award Ceremony
Final Note
• There is free parking at the venue !
• Please be advised that SM will be streaming matches on AfreecaTV and matches will be recorded live with commentary.
• Please be thankful and respectful for our venue holder K-town PC Cafe, this event is all possible thanks to their support as well! Lunch/Food will be provided by our venue holder K-town PC cafe as well!