SLUGME 2017

Wednesday, November 15, 2017 from 5:00 PM to 9:30 PM (EST)
Event Details
Join SolidWorks User Groups around the globe for the second annual SLUGME - SolidWorks Largest User Group Meeting Ever!
On November 15th, join user groups from Boston, Central Massachusetts, and New Hampshire at SolidWorks' beautiful Waltham campus. We'll link up with dozens of additional user groups around the world for a live presentation by one of the leaders in the SolidWorks Community. This free event will include in-person panel discussions with SolidWorks Executives and Product Definition Managers, a simulcast Tips and Tricks presentation by Todd Blacksher from his User Group meeting in Nebraska, networking with SWUG friends, and of course PIZZA and PRIZES!
Don't miss the biggest SWUG Meeting of the year, SLUGME! 
Brought to you by the SOLIDWORKS User Group Network, our generous sponsors, and the SLUGME Committee.
Agenda
  5:30pm - 6:00pm  Eat, mingle, network
  6:00pm - 6:15pm  Business and Introductions
  6:15pm - 7:15pm  SolidWorks Development Panel Discussions
  7:15pm - 7:30pm  Break & Networking
  7:30pm - 8:30pm  All the Small Things - Todd Blacksher, SWUGONE
  8:30pm - 9:00pm  Q&A, wrap-up, prize drawings
SolidWorks Development Panel Discussions
Join SolidWorks developers, managers, and executives at a series of intimate roundtable discussions on a wide range of SolidWorks products and features. Share your thoughts on the product line, discuss company strategy, or recommend much-needed enhancements. You may even get a sneak peek at some upcoming features. 


All The Small Things
Todd Blacksher, SWUGONE
In this encore of last year's wildly successful SLUGME (SolidWorks Largest User Group Meeting Ever) event, Todd Blacksher presents a fast-paced spin though dozens of live demonstrations that cover a little bit of everything: shortcuts, user interface, sheet metal, weldments, templates, custom properties and more! Every User Group which participates in SLUGME will view this live-streamed webinar in real time!
Todd Blacksher started using SolidWorks in 2002, earning his CSWP in 2005, and CSWE in 2015, plus another 11 certifications in between. He's worked in the fields of electronics, aviation, automation equipment, and laboratory test equipment, in addition to working as an Application Engineer for the local SolidWorks VAR.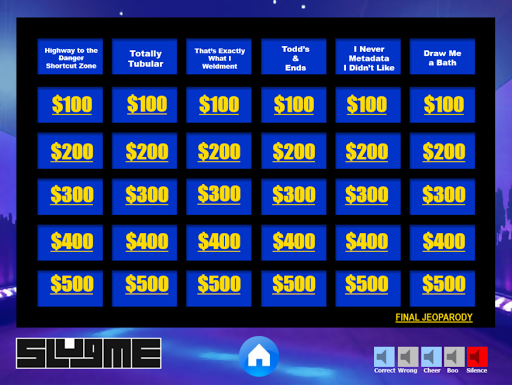 ---
Prizes
Attend SLUGME for a chance to win...
Polaroid Zip Mobile Printer
UDI Discovery HD+ Drone
Amazon Kindle Fire 7
And much more!
When & Where

Dassault Systemes
175 Wyman Street
Waltham, MA 02451


Wednesday, November 15, 2017 from 5:00 PM to 9:30 PM (EST)
Add to my calendar
Organizer
SLUGME is a new annual event that brings User Groups from all over the world together for an hour of togetherness and learning. Presentations are simulcast around the world from a central location, allowing user groups to interact and learn together. This year, the BANSWUG, CMA-SWUG, and NHSWUG groups will combine for this historic event at SolidWorks Corporate HQ, while the main presentation broadcast from SWUGONE in Nebraska.