Now in its third year, Slugger O'Toole is trying to catch our local political class being good. And where we don't, we're going to have a bit of a laugh about it.
Click here to see the full list of nominees!
Once again, Tim McGarry will be hosting, and the Guardian's political cartoonist Martin Rowson will be joining us on the night to provide the prizes.
Instead of the bog-standard little corporate cut-glass trophy,  Slugger Awards winners will instead receive a (possibly unkind) caricature, drawn there and then by Mr Rowson.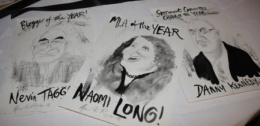 These awards present us with a fantastic opportunity to tell politicians, the media and public bodies what we'd like them to be doing better.

Slugger's readers are already deciding what the awards are going to be following the Slugger / Stratagem Big Political Breakfast.

Last years' awards were sold out. Book your ticket now to avoid disappointment. When they're gone, they're gone.....