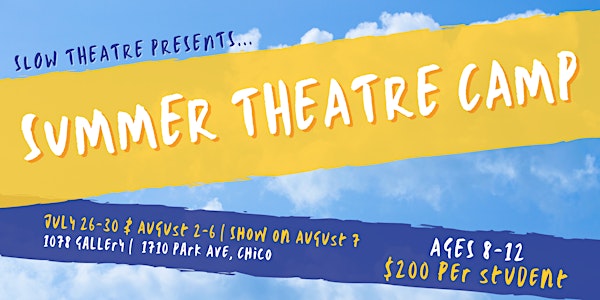 Slow Theatre Summer Theatre Camp 2021
Slow Theatre is proud to present our first-ever Summer Theatre Camp for youth, ages 8-12 at the 1078 Gallery in Chico, California.
When and where
Location
1078 Gallery 1710 Park Avenue Chico, CA 95928 United States
Refund Policy
Contact the organizer to request a refund.
Eventbrite's fee is nonrefundable.
About this event
Summer Theatre Camp 2021
For the first time ever, Slow Theatre invites youth ages 8-12 to participate in a two-week summer theatre camp to learn skills in theatre, create social connections, and have fun with our team! As a leader in arts and culture in the North State, we are excited to bring our skills and expertise to the stage with young people seeking a creative outlet. Alongside our expert instructor, attendees will learn all about theatre and storytelling, culminating their learning in a performance for an audience of family and friends.
Registration ends on Friday, July 23rd!
What's Included?
This camp is a two-week intensive where children of all skill levels will learn improvisation, role-play, mime, movement, storytelling, and theatre games that help build confidence and increase self-awareness, relaxation, responsibility, creativity and imagination. By focusing on storytelling on a variety of levels such as physical, emotional, imaginative and social, these classes will encourage artistic insight and enhance acting skills. Whether students are interested in careers in acting or simply want to try something new, Summer Theatre Camp will offer an exciting and educational experience for all. The camp will culminate with a public performance in front of friends and family (free to attend) on August 7.
Registration is $200 per student, and supports the development of young people as well as the continued efforts of Slow Theatre to enhance arts and culture opportunities and experiences for our communities.
Camp Schedule
Dates: July 26-30 and August 2-6 from 1:00PM to 3:00PM
Culminating Performance for Friends & Family: August 7 from 1:00PM to 2:00PM
About Your Instructor
Justin Bryant is a writer, comedian, and educator. He received his BA from Emory University in Atlanta, GA in Film Studies and has his MFA in English and Creative Writing from San Jose State. He has worked on film projects in Atlanta and Los Angeles. Justin is of the first generation of stand-up comedians in Chico, CA and studied improv at The Groundlings in Los Angeles. Currently, he is the Executive Director of Chico Live Improv Comedy, where he coaches a drop-in class every Monday Night as well as organizes bi-monthly improv shows with a troupe of local improv comedians. His work has appeared in The Watershed Review.
Justin is the President of Slow Theatre, and Creative Director of Slow Theatre's annual theatre event, Garage Fest. In addition to presenting world-class theatre, comedy, and improv entertainment for the North State community, he teaches youth tennis classes and leads improv instruction in schools throughout the region. Finally, Justin has designed and implemented improv classes in collaboration with Butte County Juvenile Hall to support the enhanced well-being and creative expression of at-risk youth.
COVID-19 Safety
We value the safety of our participants and recognize that our community is still affected by a global pandemic. To protect the well-being of everyone, we have designed a socially distanced curriculum and will require masks for all indoor activities throughout the course. All instructors are fully vaccinated.
About Slow Theatre
At Slow Theatre, we aim to foster critical engagement with the work of local artists and let the issues of the community dictate our programming. We are based in Chico, California and share our programs throughout the North State.
Slow Theatre produces The Butcher Shop, our annual, free outdoor summer play for the Chico community, as well as Garage Fest, a two-night festival of local theatre in Chico CA. In addition to these productions, we conduct play readings throughout Chico, host Improv classes for youth and adults, host the Chico Speaks public discussion series, and bring improvisational theatre workshops to Juvenile Hall programs in the North State.
Every single thing we do is driven by the creativity of local artists and the context of local issues - not by Broadway. Learn more about us here.