Join Slow Food Boston for a Slow Wine toast to celebrate #eatlocal month and the inaugural In Season Harvest Fair at Bow Market.
About this event
Join fellow slow foodies at Bow Market as we gather with local small food businesses for a special Slow Food Social to celebrate #EatLocalMonthMA and toast the inaugural In Season Harvest Fair!
Hear about what the Boston chapter of Slow Food USA has been up to this summer as well as upcoming initiatives and events. Enjoy a complimentary glass of DOC Prosecco from the Slow Wine program.
Slow Food believes that wine, just as with food, must be good, clean, and fair — not just good! Wine is an agricultural product, just like any of the foods we eat, and has an impact on the lives of the people who produce it, as well as on the environment – through pesticides, herbicides and excessive water consumption which are all commonplace in conventional wine production. Download your free copy of the 2019 Slow Wine Guide at this link.
And don't forget to RSVP to check out the Harvest Fair starting at 11am!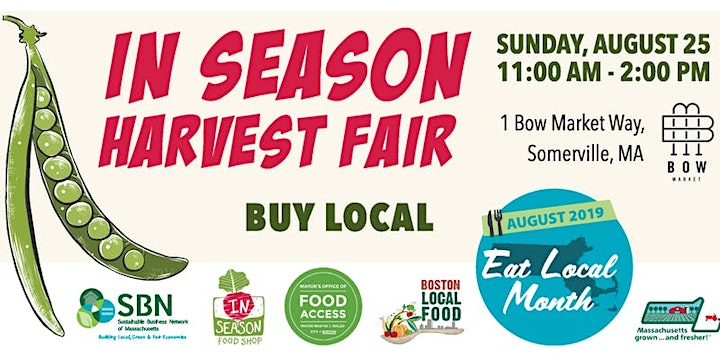 Organizer of Slow Food Summer Social
Slow Food Boston is a local chapter of an international food movement that supports "good, clean, fair food for all." We believe in building communities around the sensory experiences associated with food in order to create and sustain healthier relationships, environments, and citizenry. We seek to celebrate the diversity of food traditions to discover the bonds we share across cultures, continents, and kitchen tables. Every day we harness individual expertise and communal passion to work towards a better for system for all. And at the end of each, we don't think there's anything better than good food and good drinks shared with good friends. Here at Slow Food Boston we work to promote foods grown, produced, and prepared here in Massachusetts and throughout New England. We seek to raise awareness of sustainability issues and to host events that are just plain fun.
Please consider joining us today!
About Slow Food: Slow Food is an international volunteer-run organization committed to building communities through the food we eat, promoting GOOD, CLEAN and FAIR food for all. With a network of over 150,000 volunteers across the globe, we are collectively committed to supporting efforts in making our food supply more sustainable, cleaner, and accessible for all.