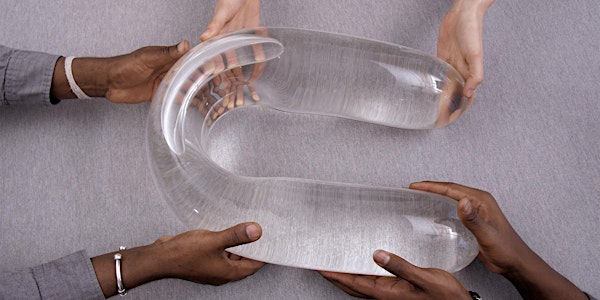 Slow Burning Fire: Public Engagement
A Conversation with Christine Gaspar and Hank Willis Thomas
About this event
Christine Gaspar is Executive Director of the Center for Urban Pedagogy (CUP), a New York-based nonprofit whose mission is to use the power of design and art to increase meaningful civic engagement. She partners with designers and community organizations to create visually-based educational tools that help demystify complex issues from zoning law to sewage infrastructure. CUP's print, audio, video, and media projects, along with tactile interactive workshop tools, are in use by dozens of community organizers and tens of thousands of individuals in New York City and beyond. The projects have been featured in art and design contexts such as the Cooper-Hewitt Museum's National Design Triennial, PS-1, and the Venice Biennale, and recognized with a Cooper Hewitt National Design Award for Institutional Achievement, the Curry Stone Design Prize, and the National Arts and Humanities Youth Program Award.
Christine has over fifteen years of experience in community design. Prior to joining CUP, she was Assistant Director of the Gulf Coast Community Design Studio in Biloxi, Mississippi, where she provided architectural design and city planning services to low-income communities recovering from Hurricane Katrina. She holds Masters in Architecture and in City Planning from MIT, and a Bachelor of Arts from Brown University.
***
HANK WILLIS THOMAS (b. 1976, Plainfield, NJ; lives and works in Brooklyn, NY) is a conceptual artist working primarily with themes related to perspective, identity, commodity, media, and popular culture.
His work has been exhibited throughout the United States and abroad including the International Center of Photography, New York; Guggenheim Museum Bilbao, Spain; Musée du quai Branly, Paris; Hong Kong Arts Centre, Hong Kong, and the Witte de With Center for Contemporary Art, Netherlands.
Solo exhibitions of his work have been featured at Portland Art Museum, Portland, OR; Crystal Bridges Museum of Art, Bentonville, AK; SCAD Museum of Art, Savannah, GA; California African American Museum, Los Angeles, CA; Philadelphia Photo Arts Center, Philadelphia, PA; Cleveland Museum of Art, Cleveland, OH; The Art Museum at the University of Kentucky, Lexington, KY; The Aldrich Contemporary Art Museum, Ridgefield, CT; Corcoran Gallery of Art, Washington, D.C.; Brooklyn Museum, Brooklyn, NY; Baltimore Museum of Art, Baltimore, MD; Nerman Museum of Contemporary Art, Kansas City, MO, and the African American Museum, Philadelphia, PA, among others.
Major group exhibitions of his work include the 2017 inaugural show at Zeitz Museum of Contemporary Art Africa, Cape Town, South Africa; P.S. 1 Contemporary Art Center, New York, NY; The Studio Museum in Harlem, New York, NY; Zacheta National Museum of Art, Poland; Yerba Buena Center for the Arts, San Francisco, CA, and the 2006 California Biennial at the Orange County Museum of Art, Orange County, CA.
Thomas' work is included in numerous public collections including the Museum of Modern Art, New York, NY; Solomon R. Guggenheim Museum, New York, NY; Whitney Museum of American Art, New York, NY; Brooklyn Museum, New York, NY; High Museum of Art, Atlanta, GA, and the National Gallery of Art, Washington, D.C.
His collaborative projects include Question Bridge: Black Males, In Search Of The Truth (The Truth Booth), The Writing on the Wall, and For Freedoms. In 2017, For Freedoms was awarded the ICP Infinity Award for New Media and Online Platform. Thomas is a recipient of the Gordon Parks Foundation Fellowship (2019), The Guggenheim Fellowship (2018), AIMIA | AGO Photography Prize (2017), Soros Equality Fellowship (2017), Aperture West Book Prize (2008), Renew Media Arts Fellowship from the Rockefeller Foundation (2007), and the New York Foundation for the Arts Fellowship Award (2006). He is also a member of the Public Design Commission for the City of New York.
Thomas holds a B.F.A. from New York University, New York, NY (1998) and an M.A./M.F.A. from the California College of the Arts, San Francisco, CA (2004). He received honorary doctorates from the Maryland Institute of Art, Baltimore, MD and the Institute for Doctoral Studies in the Visual Arts, Portland, ME in 2017.
In 2019, Thomas unveiled his permanent work "Unity" in Brooklyn, NY. In 2017, "Love Over Rules" permanent neon was unveiled in San Francisco, CA and "All Power to All People" in Opa Locka, FL