Join National Gallery Singapore as we celebrate Slow Art Day on 10 April 2021!
About this Event
Inspired by the principles of slow looking and mindfulness, Slow Art Plus takes you on a deep dive into an artwork from The Care Collection. Led by a trained mindfulness practitioner, Dr. Mabel Yap, Slow Art Plus features facilitated observation exercises, guided mindfulness practices, and a group conversation where you will get to exchange your interpretations, all in 90 minutes. Launched exclusively for Slow Art Day, Slow Art Plus seeks to bridge visual art, mindfulness, and emotional wellness. Be the first to experience this programme!
Dr. Mabel Yap is a trained MBSR (mindfulness-based stress reduction) teacher with a passion for arts and wellness. She is also a medical doctor with a PhD in Nutrition and a Master's in Public Health.
Recommended for Ages:15 and Above
---------------------------------------------------------------------------
The global Slow Art movement is driven by a belief in the power of slowing down. It encourages people to savour art in a conscious manner, resulting in a deep and mindful experience. On 10 April, National Gallery Singapore becomes the first local museum to join other museums around the world in celebrating Slow Art Day. Come down to the Gallery to experience Slow Art Plus or log into a Zoom session of Slow Art Online from the comfort of your own home!
On this special day, all programmes are free. Slots are very limited so sign up fast!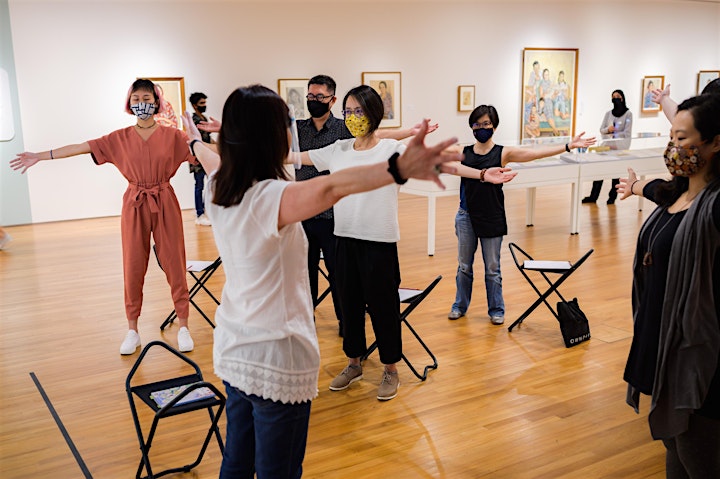 Please arrive 20 minutes prior to your respective programme start time.
The meeting point for the programme will be on Level B1 at the Visitor Service Centre located in the basement concourse.
Do come in comfortable clothing and shoes as there will be simple movement exercises.
Participation in the Slow Art Plus programme does not cover General Admission to the Gallery. Please ensure that you have a General Admission sticker before the start of the programme.
If you are no longer able to make it for the programme, please email us immediately at community@nationalgallery.sg so we can offer your spot to the next person in the waitlist.