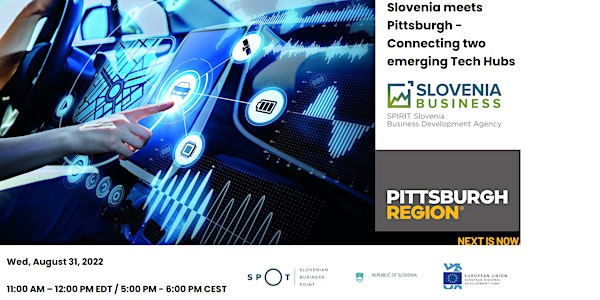 Slovenia meets Pittsburgh - Connecting two emerging Tech Hubs
Explore transatlantic business opportunities in Tech, AI and AV!
About this event
The US city of Pittsburgh and the Central & Eastern European country of Slovenia are emerging tech hubs with long-standing industrial traditions.
Slovenia is highly skilled Central European country close to Southern Germany, Austria and Italy and thus the perfect gateway to Europe's economic center. The country became a recognized European player in mobility, AI, Electronics and Advanced Manufacturing and a major testbed for Autonomous Vehicles with players like AV Living lab. Pittsburgh transformed from a primarily steel and coal city, to a leading hub for AI, robotics, Life Sciences and Autonomous Vehicles as well. The city also has a strong business community with Slovenian heritage and many connections to the country.
We invite companies, tech organizations and interested parties to join us in this upcoming roundtable to: Meet - Connect & Collaborate!
Agenda
Welcoming Remarks
- Petra Mitchell, Slovenian Honorary Consul in Pittsburgh
- David Moock, Authorized Investment Representative, Commonwealth of Pennsylvania
Overview on Slovenia & Pittsburgh as emerging Tech hubs:
- Rok Vodopivec, Spirit Slovenia
- Cody Gill, Pittsburgh Regional Alliance
Opportunities for Transatlantic Cooperation in AV, AI and Tech
- Daniel Avdagic, CEO, AV Living Lab
Q&A
Event Partners:
Spirit Slovenia, Pittsburgh Regional Alliance, Pennsylvania Department of Community and Economic Development
Find out more about Slovenia's green qualities, creative talent and smart solutions at sloveniabusiness