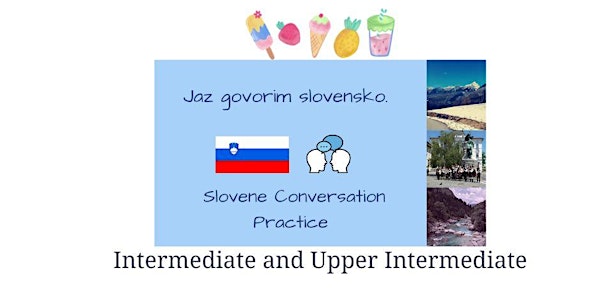 Slovene Conversation Practice - Intermediate and Upper Intermediate
Pridružite se uram konverzacij v slovenščini. To je možnost, da izboljšate svoje govorne veščine in osvojite nove komunikacijske vzorce.
About this event
Dobrodošli na uri konverzacij v slovenščini!
Practice your Slovene conversation skills with us. Every meeting has a different topic, so each practice will be interesting and full of fun. Practice is the perfect supplement to any other Slovene language program and a safe environment to quickly improve your spoken Slovene.
- The Slovene conversation practice is recommended for Beginner and Intermediate levels.
- We will meet at 9 AM CEST.
- You will get a link to GoogleMeet by e-mail. Please check your SPAM.
At the checkout, select the ticket type.
Se vidimo,
Katja
Dobrodošli na uri konverzacij v slovenščini!
Vadite svoje konverzacijske veščine v slovenščini! Vsako srečanje ima svojo temo, z nami bo zanimivo in zabavno. Naša srečanja so popolna dopolnitev drugim jezikovnim programom slovenskega jezika in predstavljajo varno okolje za hiter napredek v govorjeni slovenščini.
Dodatne informacije:
– ure konverzacij v slovenščini so namenjene začetnikom in nadaljevalcem,
– srečali se bomo ob 9. uri (po srednjeevropskem poletnem času),
– povezavo na srečanje v aplikaciji GoogleMeet boste prejeli po e-pošti. Na dan konverzacij preverite svojo nezaželeno e-pošto (SPAM).
Ob plačilu izberite vrsto vstopnice.
Se vidimo,
Katja