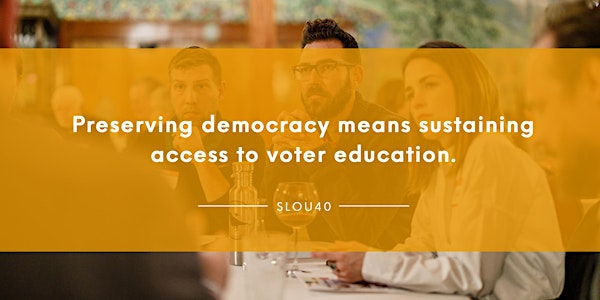 SLOU40 Candidate Forum
Digital forum for candidates running for SLO City Mayor & City Council, participating in small group dialogue with the under 40 community.
About this event
Wednesday, September 30 from 5:30-7:30pm via Zoom
What is it? Candidates running for SLO Mayor & SLO City Council will be in attendance for a conversation leading up to the November election. This event is geared towards the under 40 community. This means we don't believe in barriers to participate, so this event is free.
Why attend? It's going to be the best way to learn who's who and what's what. With as many candidates as there are, we can help you separate news from noise and learn about the topics that are most important to you.
What to expect? Candidates introduce themselves and then we break you out into small groups. Candidates will be rotated from break out room to break out room after a short time together. Ask whatever you want; however, we are honoring the Code of Civility for this forum. So as always, please join us in the spirit of civility with mindful dialogue to communicate your ideas.
Once you register you will receive a confirmation e-mail. We will be limiting this event to 100 people total. An individual Zoom link with password will be e-mailed 24 hours prior to the event. Once we sell out of seats, we will begin a wait list for any open spots available 10 minutes after start time at 5:40pm.
E-mail us at slou40info@gmail.com to join the waitlist.
*Photo credit: Heraldo Family Photo