About this Event
Doors 7:30PM ✹ Show 8:00PM
$20 ADV ✹ $25 Day of Show ✹ All Ages
ABOUT SUMMER SERIES AT INDUSTRY CITY▶
Created by the team behind Brooklyn venues The Bell House and Union Hall, City Farm Presents returns to Industry City for a second summer of outdoor shows in Courtyard 1-2! From June-September, this season features an expanded schedule with more than 35 concerts and dance parties. Audiences can expect to discover a diverse line-up featuring genres spanning rock, soul, electronic, jazz, world and beyond. This summer will introduce thoughtful artist curation to an already unique and creative space, bringing a fresh take on the New York City outdoor concert experience. For more information, visit our Website or the City Farm Presents Facebook, Instagram or Twitter.
All Summer Series shows are located at Industry City in Courtyard 1-2 (info and directions below).
Doors open one hour prior to performance unless otherwise noted.
VENUE ADDRESS ▶
Industry City - Courtyard 1-2
Entrance at 238 36th Street (Food Hall Entrance)
Brooklyn, NY 11232 | Google Maps
DIRECTIONS TO THE VENUE ▶
☞ BY CAR
There is a paid designated parking lot accessible via 2nd Avenue between 32nd Street and 36th Street
☞ BY PUBLIC TRANSPORTATION
D / N / R to 36th Street
B63 Bus to 36th Street
☞ BY BIKE
There are bike racks located throughout the Industry City campus.
There is a Citi Bike bike sharing station located at 2nd Ave between 36th Street and 35th Street, and another at the corner of 2nd Ave and 39th Street.
FOOD OPTIONS AT INDUSTRY CITY▶
Eat your heart out Brooklyn. From Korean comfort food to Instagram-famous Avocado toasts, Industry City's Food Hall is a delicious culinary gathering place in the center of campus. Stroll along Innovation Alley and beyond to discover other Brooklyn-based purveyors serving up local craft spirits distilled on site and some of the country's best BBQ.
Table 87 Pizza
Burger Joint
Ends Meat
Avocaderia
Taco Mix
Recently opened Japan Village (Building 4)
Hometown BBQ (Building 5 - Opening Soon!)
Click Here For Food Options Near Courtyard 1-2 in Industry City
VENUE BAR HOURS ▶
Our venue bar is open for all scheduled performances at doors, and in addition to:
Thursday-Friday: Opens at 4:00PM
Saturday-Sunday: Opens at Noon
✴ Happy Hour! ✴
Weekdays 4:00pm-7:00pm, $1 off all beer, wine and well!
RAIN OR SHINE POLICY▶
All Performances are Rain or Shine. In the event of dangerous weather we will be communicating updates on our website, Facebook, Instagram Stories and Twitter.
✹✹✹✹✹✹✹✹✹✹✹✹✹✹✹✹✹✹✹✹✹✹✹✹✹✹✹✹✹✹✹✹✹✹✹✹✹✹✹
ABOUT SLOTHRUST ✹
SLOTHRUST The Pact (Short Bio)Slothrust is principal songwriter, singer, guitar player and unrepentant aesthete Leah Wellbaum, with drummer Will Gorin and bassist Kyle Bann. On their fourth full-length albumThe Pact, Slothrust constructs a luscious, ethereal cosmos perforated with wormy portals and magic wardrobes, demonstrating more clearly than ever the band's deft shaping of contrasting sonic elements to forge a muscular sound that's uniquely their own.The album was recorded in Los Angeles with producer and mixer Billy Bush (Garbage, Neon Trees, The Boxer Rebellion).Cultivating their potent brew of classically informed, soulful rockin the fertile Brooklyn indie scene, Slothrust released their debut LP, Feels your pain, in 2012, followed by 2014'of Course You Do. The band expanded their fervent following via the song "7:30 am," selected as the themefor the FX Network show "You're The Worst". Their 2016 Dangerbird debut albumEveryone Elseestablished the band asa breed apart, capable of serving up deceptively clever epics that veer satisfyingly between incandescent riffing and pop hooks, winsome anxiety and powerful heft.Throughout 2016 and 2017, Slothrust lit up audiences on sold-out headline tours, festival dates and support tours with Highly Suspect in the US andManchester Orchestra in Europe. The band closed out 2017with Show Me How You Want It To Be, an EP of of unexpected and inventive covers of songs by artists as diverse as Al Green and Britney Spears, Black Sabbath and Louis Armstrong.
ABOUT AND THE KIDS ✹
Since their earliest days as a band, And The Kids have embodied the wayward freedom that inspired their name. "When Rebecca and I were teenagers we just lived on the streets and played music, and people in town would always call us kids—not as in children, but as in punks," says Mohan. On their third full-length When This Life Is Over, the Northampton, Massachusetts-based four-piece embrace that untamable spirit more fully than ever before, dreaming up their most sublimely defiant album yet.
The self-produced follow-up to Friends Share Lovers—a 2016 release acclaimed by NPR, who noted that "Mohan's striking vocals rival the vibrato and boldness of Siouxsie Sioux...[And The Kids] make music that's both fearless and entertaining"—When This Life Is Over unfolds in buzzing guitar tones and brightly crashing rhythms, howled melodies and oceanic harmonies. Although And The Kids recorded much of When This Life Is Over at Breakglass Studios in Montreal (mainly to accommodate the fact that Miller was deported to her homeland of Canada in 2014), a number of tracks come directly from bedroom demos created by Lasaponaro and Mohan. "The sound quality on those songs is so shittily good; it's just us being so raw and so alone in the bedroom, writing without really even thinking we were going to use it," says Mohan. "We recorded them right away, and there was a really strong feeling of 'Don't touch them again.'"
Even in its more heavily produced moments, When This Life Is Over proves entirely untethered to any uptight and airless pop-song structure. Songs often wander into new moods and tempos, shining with a stormy energy that merges perfectly with the band's musings on depression and friendship and mortality and love. On opening track "No Way Sit Back," And The Kids bring that dynamic to a sharp-eyed look at the lack of representation of marginalized people in the media. "If you're not seeing yourself portrayed on TV, whether you're a person of color or trans or queer, that can be really damaging to your mental health—it can even be fatal," says Mohan. With its transcendent intensity, "No Way Sit Back" takes one of its key lyrical refrains ("The world was never made for us") and spins it into something like a glorious mantra. That willful vitality also infuses tracks like "Champagne Ladies," on which And The Kids match a bouncy melody to their matter-of-fact chorus ("Life is a bastard/Life wants to kill you/Don't get old"), driving home what Mohan identifies as the main message of the song: "Don't die before you're dead."
The origins of And The Kids trace back to when Mohan and Lasaponaro first met in seventh grade. After playing in a series of bands throughout junior high and high school (sometimes with Averill on bass), the duo crossed paths with Miller in 2012 when the three interned at the
Institute for the Musical Arts in the nearby town of Goshen. Once they'd brought Miller into the fold, And The Kids made their debut with 2015's Turn to Each Other and soon headed out on their first tour. "At one of the shows on that tour, a burlesque act opened for us at a place in Arkansas," Mohan recalls. "And then another time on tour, we crashed at a friend of a friend's house, and there was a pot-bellied pig sleeping on the couch. That's what nice about staying at people's houses on the road: you never know what you're gonna see."
In creating the cover art for When Life Is Over, And The Kids chose to include a picture of their mascot: a black chihuahua named Little Dog, an ideal symbol for the scrappy ingenuity at the heart of the band. "Some of the most memorable moments we've been through with the band are like, 'Hey, remember that tour when Megan had just gotten deported and we didn't have any money, and we had to drive all these hours to play for like two people?'" says Mohan. "That was a real bonding experience for us. And even when it's hard, there's always something good that comes out of it. There's always a meaning for everything."
ABOUT WEAKENED FRIENDS ✹
Common Blah is the debut full-length by Portland, Maine's Weakened Friends. Founded by songwriter Sonia Sturino, bassist Annie Hoffman, and drummer Cam Jones in 2015, the trio is a low pressure outlet for emotionally volatile music. Engineered and produced by Hoffman and perfected over the last year, the record broadcasts heavy feelings amid screech and feedback with little more than a fuzz pedal to clog up the signal chain. For Sturino, writing in Weakened Friends is more of a physical process than a mental one. "I have to feel the vibration or sound coming out of my body. I need the physicality to do it, to enjoy singing it," she says. "People probably hear the vocals and think, 'she just puts on that weird voice,' but it's really just what comes out. It's my body making that sound."Many of the songs reckon with deep mid-20s malaise — with the feeling of being young, stuck, and settling for less. "Sometimes, things look good on the outside, but they're not working. That's how it used to be for me. I'd hear, 'You have a really cool job. You live in a cool city. Your band is cool.' It was 'Common Blah' though because I was miserable. I didn't care. Now, I'm at the other end of the spectrum. People do something that they think they're supposed to do when it's not what they should be doing and it doesn't make them happy. In a lot of ways, this is the first time I've found happiness. I wrote the lyrics about the time before that happiness."On Common Blah, Weakened Friends use volume — instrumental and emotional — to reassert a sense of control in a time when daily life has slid out of tune. The album also features guest shredding by peer and kindred spirit J Mascis on the song "Hate Mail." Common Blah will be out on CD, LP, and digital download via Don Giovanni Records on October 19th.
Sign up for our newsletter! http://eepurl.com/geb4kf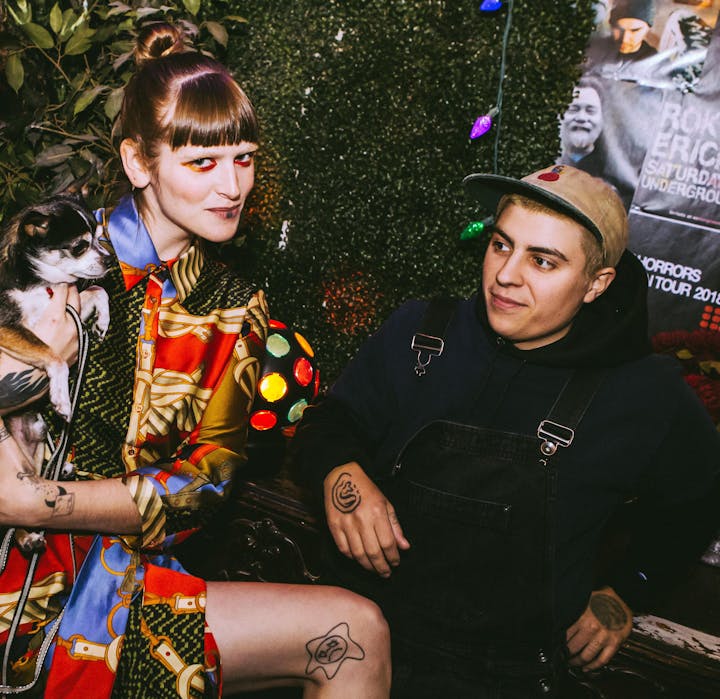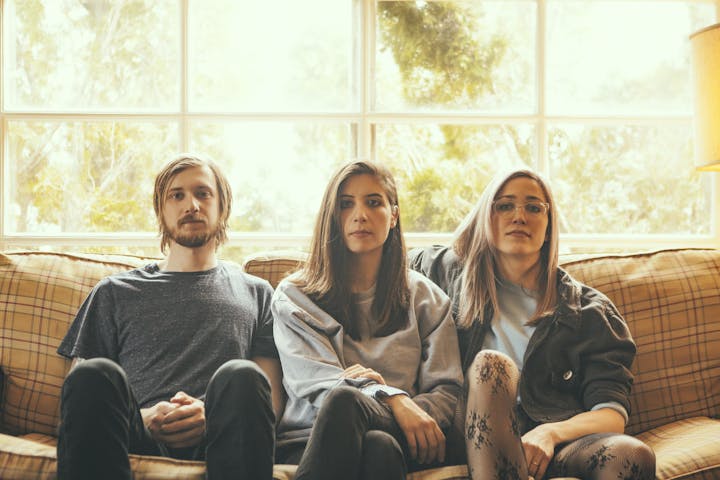 Performers
Date and Time
Location
Industry City
238 36th Street
Courtyard 1-2 (Food Hall Entrance)
Brooklyn, NY 11232
Refund Policy