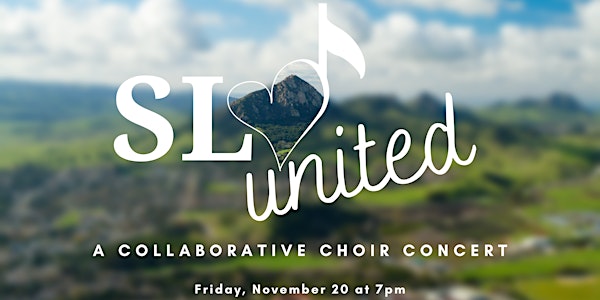 SLO United: A Collaborative Choir Concert
Choirs all over SLO County have come together to create one collaborative choral experience for the community!
About this event
Choirs all over SLO County have come together to create one collaborative choral experience for the community!
It started with an idea... an idea kicked around in a Zoom meeting, as do many ideas these days. Singers all across the country are missing the community and camaraderie that comes with rehearsing and singing together. With one shared mission, singers in SLO County decided to unite and collaborate... SLO United is a chance for you to see and support some of your favorite local singers in one virtual event!
Join us online on Friday, November 20 for the premiere of SLO United: A Collaborative Choir Concert. Register for a free ticket now, and we will email you the unlisted link to our YouTube video prior to the concert. Once the video premieres, it continues to live on that page so you can enjoy the concert any day/any time after it goes live!
In addition to the choirs submitting their own individual pieces, the concert will include one piece everyone is performing. "I Dream a World," composed by David Brunner with lyrics from the famous Langston Hughes poem, so significantly speaks to our times, while providing our students with educational insight to the Harlem Renaissance.
This concert is FREE, but we hope you'll consider donating. As we struggle to produce events during this time of closures, your donation will go a long way! Donations collected from this concert will first go toward the cost of producing this event, and the rest will be sent to the SLO County Office of Education to share the gift of music with the young and inspiring arts students in our community. Especially during this difficult time, we so appreciate your choice to give. Thank you in advance for your generous donation!
For a suggested donation of $5: tickets.cuesta.edu
To donate separately: bit.ly/donate2SLOunited
Performances include, but are not limited to:
Cal Poly Polyphonics
Cal Poly Advanced Women's Chorus
Cal Poly Chamber Choir
Cal Poly University Singers
Cuesta Voce
Cuesta Chamber Singers
Cuesta Concord Chorus
Templeton High School Mixed Choir
Canzona Women's Ensemble
Los Osos Middle School Stage Choir
Moro Bay High School Concert Choir
San Luis Obispo Vocal Arts Ensemble
Central Coast Youth Chorus
San Luis Obispo High School
Laguna Middle School
Atascadero Middle School Concert Choir
Atascadero High School Choirs
Atascadero Fine Arts Academy Choir
We love and miss our community, and hope you are able to join us for or after the concert premieres!