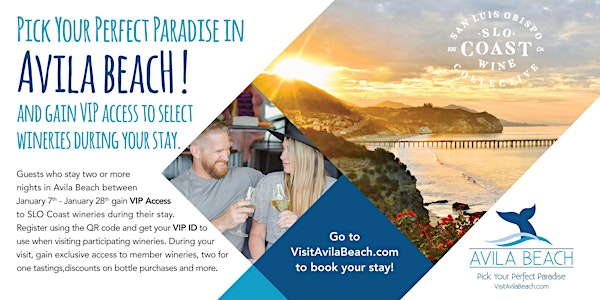 SLO Coast VIP in partnership with Avila Beach
Pick your paradise in Avila Beach and gain VIP access to select San Luis Obispo Coast wineries during your stay.
About this event
Guests who stay two or more nights in Avila Beach between January 7th - February 10th gain VIP access to SLO Coast wineries during their stay. Register here and get your VIP ID number to use when visiting participating wineries. Get exclusive access to member wineries, two for one tastings, discounts on bottle purchases and more.
Go to Visit Avila Beach to book your stay!
When you register, you will receive an email with your VIP# (order number) to reference when booking tastings, along with a link to all of the perks available to you during your stay!
Questions? Please contact info@slocoastwine.com